After much hype, Freetrade is now available on both Android and your iPhone via OIS. You can check out my Freetrade review below, the cheapest way to buy and sell stocks in the UK.
Why Freetrade?
Freetrade allows investors to buy and sell shares for free. Yes, that means absolutely no dealing charges and commissions.
Gone are the days where we would be forced to pay an average price of £10 a deal.
With companies like Freetrade, Trading 212, and Etoro coming on the scene, investment platforms have had to lower or completely remove their fees to compete.
Freetrade, with its easy-to-use stockbroking platform, has come at the right time.
In this post, I take a look at the usability of the app and look at the pros and cons of the platform. So read on to find out more.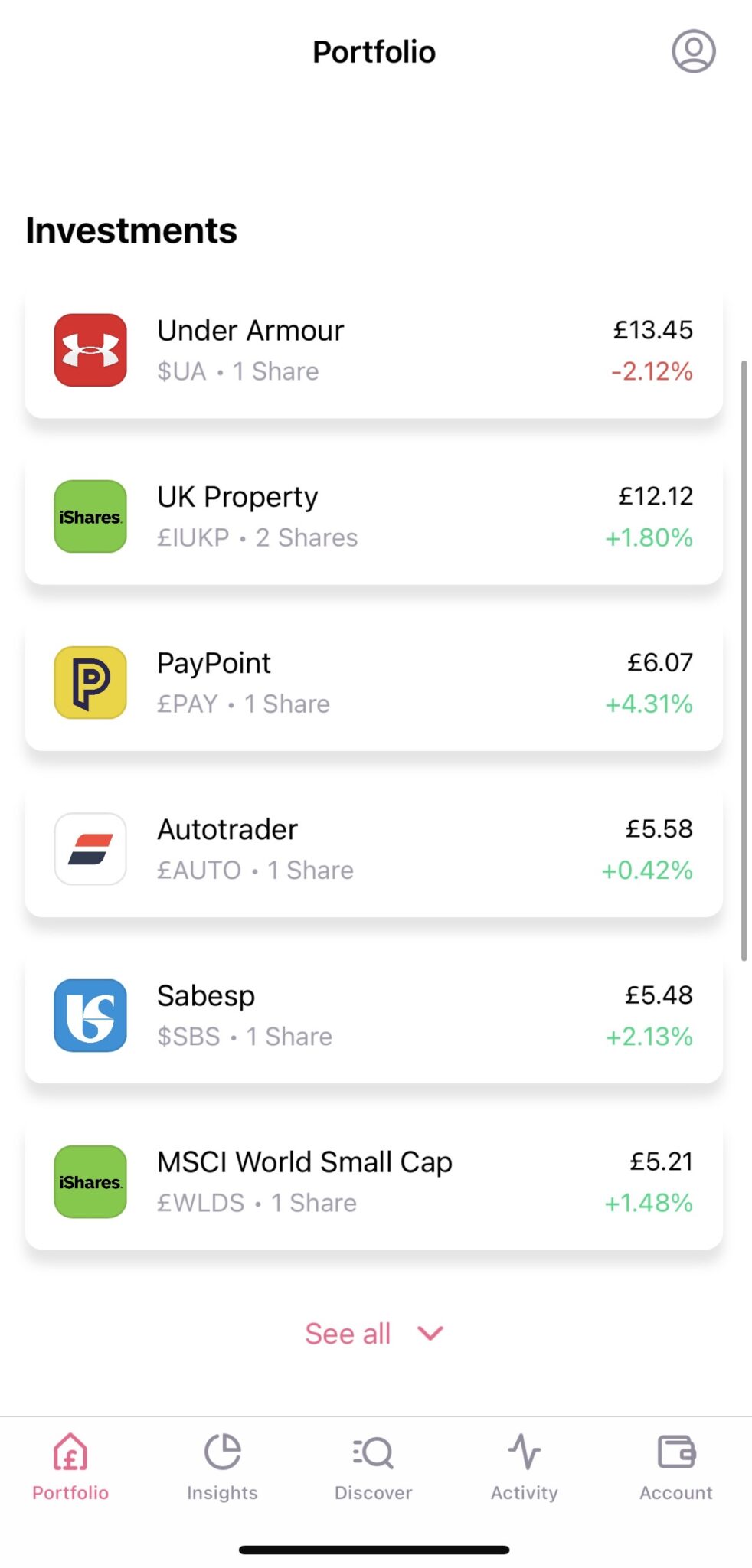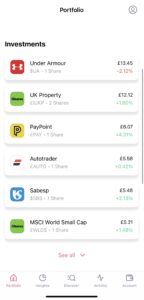 There is currently a promotion running for new users. Anyone who signs up with my link, funds their account – can be as little as £1 –  and completes a W8-BEN form on the app will receive a free share worth up to £200.  
What Is Freetrade?
Freetrade is a new app-only share dealing platform that allows customers to execute stock market trades with zero dealing costs. Its aim is to revolutionize the stockbroking industry and make it easier and cheaper for everyday people to buy and sell shares.
How Does Freetrade make money?
If there are no dealing charges, how exactly does Freetrade make money?
Free trade aims to offer a Freemium service where the basic services are provided free of charge while more advanced features must be paid for.
So the current pricing for premium services that need to be paid for are as follows:
Same day outgoing bank transfer – £5 (it is important to note that if it is not the same day then it is free!)

ISA account fee – £3 a month. 

Plus (premium) account.
How To Access Freetrade?
Freetrade is currently available on iOS and Android. This means that the app can only be accessed via mobile phone (and tablet I think).
There is currently no browser or desktop version of Freetrade, however, I believe this is in the pipeline.
How To Buy Shares On Freetrade
Step 1 – Download the App on an iOS (Apple) Or an Android (Samsung, Huawei, Google, LG, Nokia) Phone
There is currently a promotion running for new users. Anyone who signs up with my link, funds their account – can be as little as £1 will get free share –  and complete a W8-BEN form on the app will receive a free share worth up to £200.  
Step 2 – Sign up using the App
 This is an easy and straightforward process. You need to be a UK resident for tax purposes and have a UK bank account in order to sign up.
Details that need to be provided are, Your name, Date of birth, Address, Nationality, and NI (National Insurance) number
Step 3 – Transfer some money to your Freetrade account
 At the moment, Freetrade does not offer a direct portfolio transfer service from a different stockbroker. So in order to invest, you need to transfer money to your account via a bank transfer or google pay.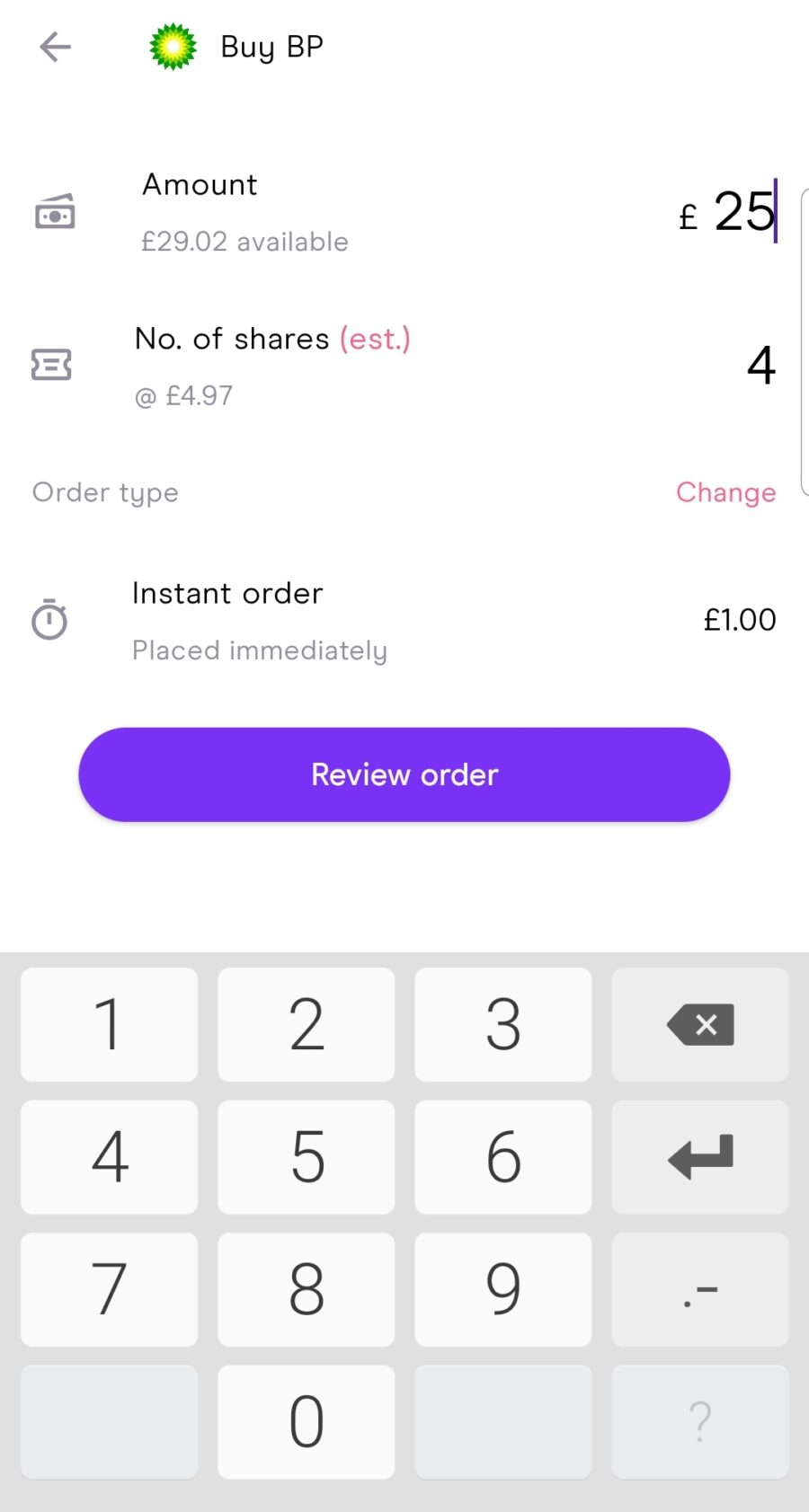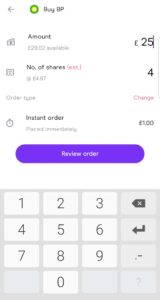 Step 4 – Use Discover To Find Stocks You want to invest in
Once You find the stock click Buy. (If you are having trouble finding high-quality stocks to invest in, look at my stock list).
Step 5 – Buy Page
On the buy page, you will need to input details as to how much money you want to invest. Freetrade then gives an estimate of how many shares you can buy with the money you want to invest e.g If a stock is trading at £1 but you state you want to invest £5, you will buy 5 shares in your chosen company.
Step 6 – Confirm Your Purchase
Confirm the details of your purchase are correct.
(Freetrade has done away with basic orders and thus all orders are carried out immediately free of charge).
Step 7 – Await confirmation of purchase and your contract note
The contract note should be issued straight away once you place the trade.
You can also find your contract notes in the activity section of the app. 
If you are new to the stock market, I am currently writing a stock market guide.
Look at this page to see the articles already published. Check back as I will be publishing articles periodically.
Is there a Freetrade ISA and SIPPs?
Freetrade currently has three different account types.
Basic Account: The basic account will be free forever with no account minimums. The basic account is akin to a share dealing account you see at most other brokerage platforms but without the fees.
ISA Account:  The ISA is a way for investors to grow their money completely tax-free – no tax on dividends and no tax on capital gains. The charge for an ISA account is £3 per month. Again dealing in this account via the basic order will be completely free. Because of its tax-free status, you are only allowed to invest up to £20,000 in an ISA account per tax year.
SIPP Account: The SIPP or Self Investment Pension Plan account is available for an additional cost but trades are free. This offers a fantastic way to save for retirement in a tax efficient manner.
What Stocks Can You Trade in on Freetrade?
Freetrade has the most popular stocks and ETFs on major UK and US exchanges. The platform also enables users to purchase American Depositary Receipts (ADRs) listed on the US markets, meaning users we'll be able to trade a number of European and Asian companies, too.
One drawback Freetrade currently has is the limited selection of stocks available to buy as compared to most other stockbroking platforms. But the company is adding new stocks every week that investors can buy into so this is definitely a step in the right direction.
Are there any fees with Freetrade?
Freetrade has no exit fees so you can get up and leave the platform when you wish at no additional charges.
Advantages of using Freetrade
There are a number of advantages we feel strongly about, the highlights are:
The biggest advantage is the free dealing offering. Not having to pay commission for buying or selling shares will save a lot of money and enhance returns.
The product is a mobile app that makes investing natural and accessible. Current solutions in the UK feel bloated, unusable, and business-minded. The Freetrade app is slick, simple, and aesthetically pleasing.
Easy to build a diversified portfolio with small amounts. I personally know many people who want to start investing but don't have sufficient funds to do so. Now people could invest with as little as £1.
To see why, take the example of a traditional stockbroker that charges £10 a trade. If you buy a share worth £20 and you pay a £10 dealing charge, your total cost is £30. You are already down £10 or over 30%. You would need for your stock to climb 33% just for you to break even. On the other hand, if you buy a stock worth £20 and have no dealing charge to pay, you are in the money as soon as the stock starts moving upwards.
This is why no dealing charges are a huge thing for us smaller cash-strapped investors. Dealing fees on the other hand do not matter for investors buying £20,000 worth of stock at a time as the £10 fee only makes up 0.05% of the purchase price.
Disadvantages Of Freetrade
A small selection of stocks – As mentioned above, Freetrade does not have the widest selection of stocks at present.
To deposit money, you can not do a simple debit card payment but you have to instead do a transfer from your bank to theirs or via Google Pay
Potential Dubious Pricing – Let me make it clear first, I am not accusing Freetrade of this. I don't have all the facts at present but just want to let you know what other free share dealing platforms do. Many free dealing platforms make money via the bid-offer spread.
The bid-offer spread is essentially the gap between the highest price a buyer is willing to pay you for shares and the lowest price a seller is willing to sell them to you for. With fee-free platforms, an investor is likely to pay closer to the higher price to purchase a share and sell nearer the lower price. 
Have a read of this article to see what robin hood has been doing.
How Safe is Freetrade?
Freetrade is an FCA authorized firm and thus client assets are protected under the FSCS.
One of the ways that Freetrade safeguards client's assets is to register stock into a separate nominee name (Freetrade Nominees Limited).
In the unlikely event of Freetrade Limited failing, liquidators are not permitted to use assets registered under the name of Freetrade Nominees Limited to cover any debts or liabilities.
This is standard market practice and mandatory under CASS rules (the principles to which Authorised firms must adhere). All client assets are reconciled on a daily basis and Freetrade's processes are independently audited by an external third party, PwC.
Is Freetrades Business Model Sustainable?
This is the big question. Like many startups, Freetrade is currently loss-making. They hope to change this by gaining scale and upsetting customers. Only time will tell how sustainable this free business model turns out to be.
My Experience With Freetrade so far…
I opened up a Freetrade account earlier this year. My experience has so far been positive. The app is easy to navigate, aesthetically pleasing and you can trade stocks effortlessly.
The customer service has also been excellent so far. I usually get replied to within 20-30 mins via the live chat function within the app.
Whilst I will continue to use Freetrade to invest in stocks, I will not be moving the bulk of my portfolio here just yet. The main reason why is due to my current stock broker offers a far wider choice of stocks to invest in than Freetrade.
I think Freetrade is a good second investment account to have. For people with large pots, I think it is wise to have more than one stockbroker. This is because the FCSC only covers up to £85,000 in compensation of investments in a firm that has gone into default. This applies to both fund managers and brokers.
I have so far found the customer service to be good as whenever I have asked a question to them via email, the response is always quick and to the point. Furthermore, I am drawn to the fantastic pricing structure.
There is currently a promotion running for new users. Anyone who signs up with my link, funds their account – can be as little as £1 will get free share –  and complete a W8-BEN form on the app will receive a freetrade free share worth up to £200.