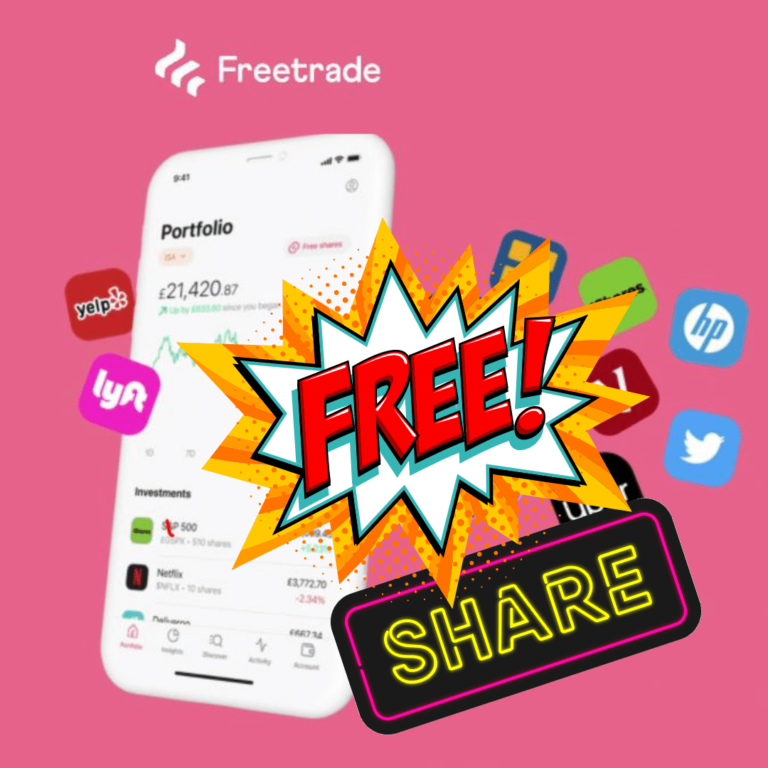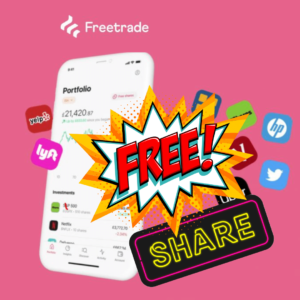 Thinking of signing up, and looking to find out how you can claim a Freetrade free share worth up to £200. Well, you've come to the right place.
It's not long ago that the only option to buy shares involved a hefty fee of £10 – £30 per transaction. With a sharp increase in the number of people making money online since the start of the global pandemic, investment apps have soared in popularity and provided an accessible entry point with commission-free transactions.
Freetrade is one of many fintech innovators simplifying investing to help you grow your money over the long term. And a solid alternative to investments apps such as Trading 212, and Robinhood. It offers commission-free trading and has a user-friendly interface that's great for beginners.
PLUS, with Freetrade you can receive a free share worth up to £200 when you get started!
Yes, you read that right! You can start investing and earn free money if you sign up using my Freetrade referral link.
Read on for a step-by-step guide on how to get your Freetrade free share in just a few clicks.
How to get your Freetrade free share worth up to £200
You can get started with Freetrade and receive your mystery free share in a few simple steps. It's really easy and doesn't take very long to complete.
Click on my referral link.

Enter your phone number, fill out your details and download the app.

Next complete the account setup process where you'll be asked to connect a bank account to deposit and withdraw funds.

Complete a W-8BEN form. This form is required to invest in US stocks, but don't worry as it's really easy to do.

Fund your account with at least £1.

Receive a notification that your free share is on its way.
Pro tip: When using a Freetrade referral link, you'll need to fund your account within 30 days to qualify for a free share. Don't miss out on free money!
Freetrade free share review
When you sign up for Freetrade, you'll want to use a referral link to avoid missing out on the free share. You can decide to keep your free share or sell it, it's up to you. If you sell your free share, you can withdraw your proceeds after 30 days.
You'll receive your free share in your General Investment Account within 7 – 10 days. Your share is randomly selected from a list of US and UK stocks, ETFs and investment trusts, with a value of £3 to £200. I will also receive a share but it won't necessarily be the same one you receive or have the same value. See below a selection of free shares I have received to date.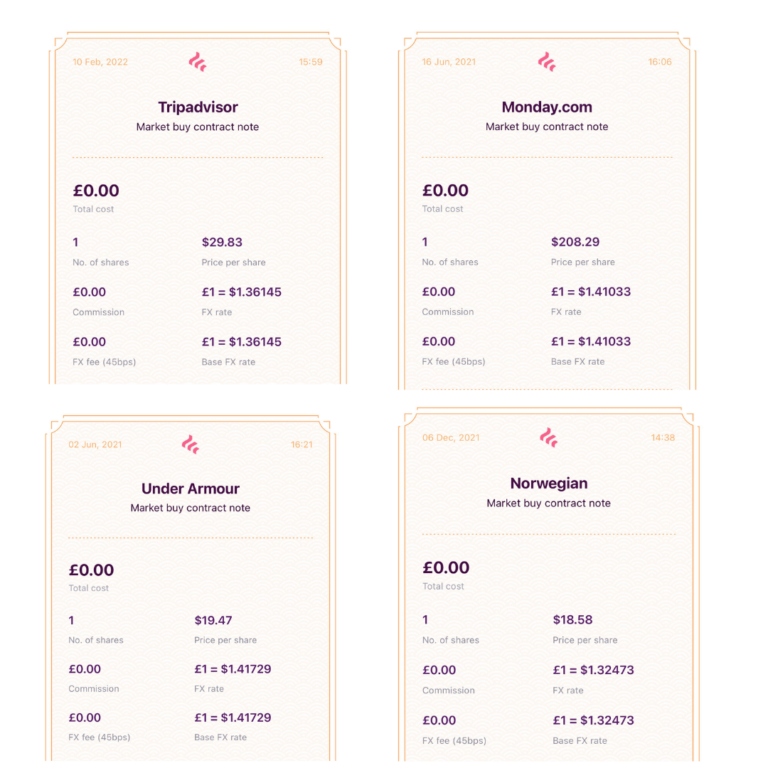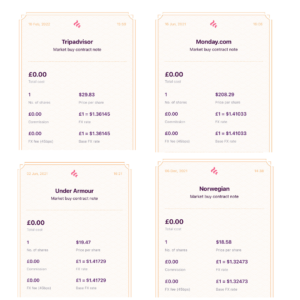 Once you're signed up, you'll also receive a referral link to send to friends and family, so that you can receive even more free shares every month! There's no limit to the number of times you can share your referral link, but you'll be limited to receiving 10 free shares per month. Any extra referrals that exceed this limit do not get carried over.
Should I stay with Freetrade once I receive my free share?
The beauty of Freetrade is its simplified approach to investing where you can invest in over 6000 stocks commission-free. You can start by investing with small amounts of money to get a feel of how the platform works and if it's right for you. If you are still unsure you can check out my in-depth Freetrade Review.
There's an ever-growing range of products including stocks, ETFs and index funds listed in the US, UK and European markets. Some of the most expensive US shares can be bought in small quantities known as fractional shares with as little as £2. So don't worry if you don't have £2000 to drop on an Amazon share!
Final Thoughts
You'll need to be a UK tax resident and a Freetrade customer to receive a free share. You can choose to continue investing with Freetrade long term or simply get your free share worth up to £200 and leave it at that!
Register today with my Freetrade free share referral link and let me know in the comments below what share you end up getting!
Disclaimer: This is not financial advice, keep in mind that the value of investments can go up and down, and your capital is at risk. Never invest what you can't afford to lose and there are no guarantees of returns.
FAQs about Freetrade Free Shares
Can I drop the free share into a Freetrade ISA or SIPP?
The free share will go into your General Investment Account (GIA). Currently, Freetrade does not deposit a free share into an ISA or SIPP account.