A question I've been asked a lot this year is…..
What is the best Robinhood App Alternative?
I would recommend the Freetrade app. It's essentially a UK equivalent of Robinhood with lots of overlapping features.
Freetrade is super easy to use, provides a wide range of investments and fractional shares.
The best part however is that it offers trades on a zero-commission basis. That's right, there are no nasty fees to eat into your returns.
This makes it the best app to grow your investment portfolio if you reside in the UK or Europe.
Freetrade is running a limited promotion for new users. Anyone who signs up with my link, funds their account with the minimum deposit of £2 – will get a Freetrade free share of up to £200!
Are there any hidden charges with Freetrade?
No, Freetrade offers zero commission trading on all buys and sells on their app. Unlike traditional investment platforms such as Hargreaves Lansdown, which charge up to £11.95 every time you buy and sell a share.
Freetrade allows you to buy and sell shares for free, meaning you can keep more of your hard-earned money working for you.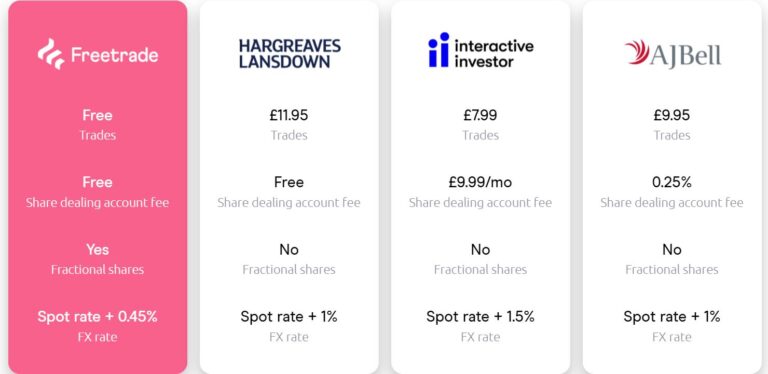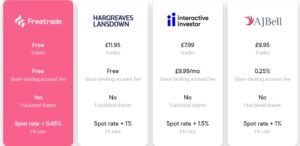 How can Freetrade offer free stock trading?
Freetrade offer a freemium model similar to the likes of Spotify and Zapier. 
They combine all transactions made on the platform and execute trades once daily. This allows them to benefit from economies of scale and very low dealing costs.
This means they are able to offer General Investment and Share Dealing Accounts at zero cost, which is great for long-term investors as they are able to save on fees that eat into their returns. 
User Experience and Interface 
I've been signed up for Freetrade for a while now, and have found the platform really user-friendly. It's simple to navigate and makes it foolproof to place trades.
The app is available on both Apple (IOS) and Android, but is not currently available on desktop.
Is Freetrade a Safe alternative to Robinhood?
Robinhood is regulated by the Securities and Exchange Commission. Freetrade is regulated by the UK equivalent, the Financial Conduct Authority.
This means in the unlikely event of the company failing, your investments are protected up to £85,000 by the Financial Services Compensation Scheme.
Robinhood vs Freetrade?
US-based Robinhood currently has over 5,000 stocks on its app, whilst UK-based Freetrade currently has over 4,000.
So Freetrade is slightly lagging in this respect, but don't forget Robinhood has been around 8 years longer.
For beginners and experienced investors alike, I don't think this will make much difference. Freetrade offers a wide range of different investment options including:
Global stocks (Including UK and US)

ETF's (Exchange Traded Funds )

Investment Trusts

REITs (Real Estate Investment Trusts)

SPACs (Special Purpose Acquisition Vehicles)

Index Funds
They currently offer over 4,000 different individual stocks to trade, if there is a particular stock you are interested in you can check if it's available here.
Freetrade is continually adding more stocks every day and if there is one, in particular, you would like to request you can do this via their customer support.
Alternative to Robinhood for Fractional shares?
Similar to Robinhood, Freetrade also offers fractional investing. This is fantastic if you are just getting into investing and want exposure to the top companies in the world.
Let's consider US stock market darlings such as Amazon (AMZN), Apple (AAPL), and Tesla (TSLA) for example.
For most people, a single share price of these tech giants would be unaffordable via a traditional stockbroker.
At the time of writing, Amazon is trading at $3,200 a share! that's a lot by anyone's standards.
Fractional investing means we can buy into Amazon from as little as £2, and get a partial share of the company.
OK, it would be a very small part of the company but it still allows you to be a shareholder whereas before you would have been priced out of the market.
When will Robinhood be available in the UK?
Robin hood's latest update in April 2021, confirmed that they have postponed their UK launch indefinitely. They have not provided any further indication as to when their app will be available here.
Final Thoughts…
If you are an investor and looking for a UK equivalent of the Robinhood app then Freetrade would be my pick. Great for beginners and experienced investors alike, this app is perfect for those that want to benefit from a wide investment selection and commission-free investing.
Freetrade is running a limited promotion for new users. Anyone who signs up with my link, funds their account with the minimum deposit of £2 – will get a free share of up to £200!
If you are interested in FreeTrade and want the latest information on the product and how the app works, have a look at my new article titled: Freetrade Review – Cheapest Way To Buy And Sell Shares On The Stock Market.
If you are a professional or day trader, however, I would check my reviews of Etoro and Trading 212.