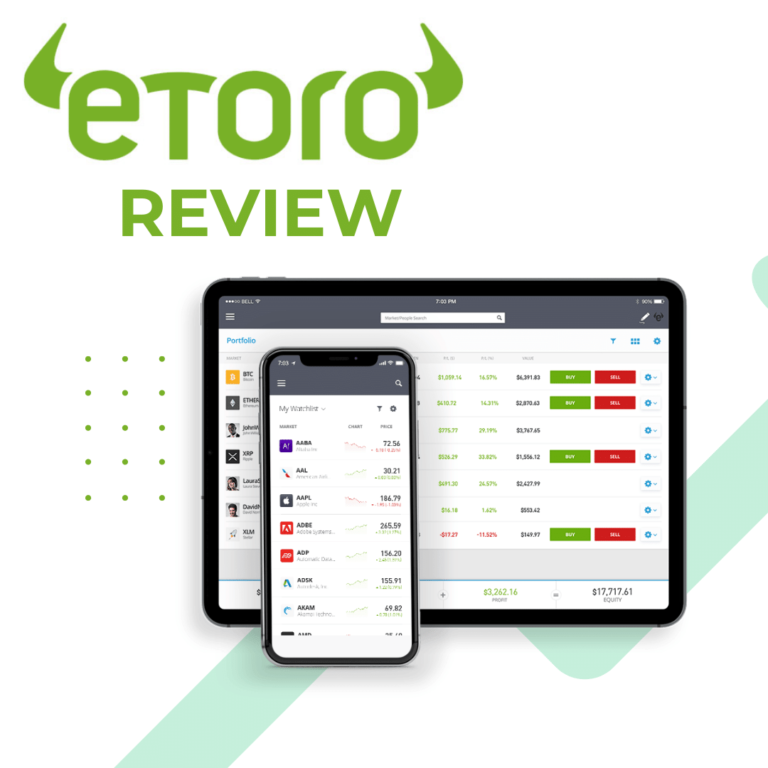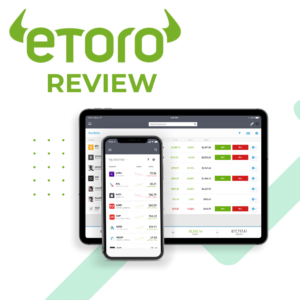 Here is my real-life review trading with eToro in 2022.
After two profitable years on the platform, it has now become my main online stockbroker.
I signed up during the pandemic under the username @stockrockets and have never looked back.
What I love most about eToro is the social trading twist. It brings traders together from all over the world to share ideas.
It's also really good fun. And I actually enjoy spending hours on it!
Think of it like Twitter for investing…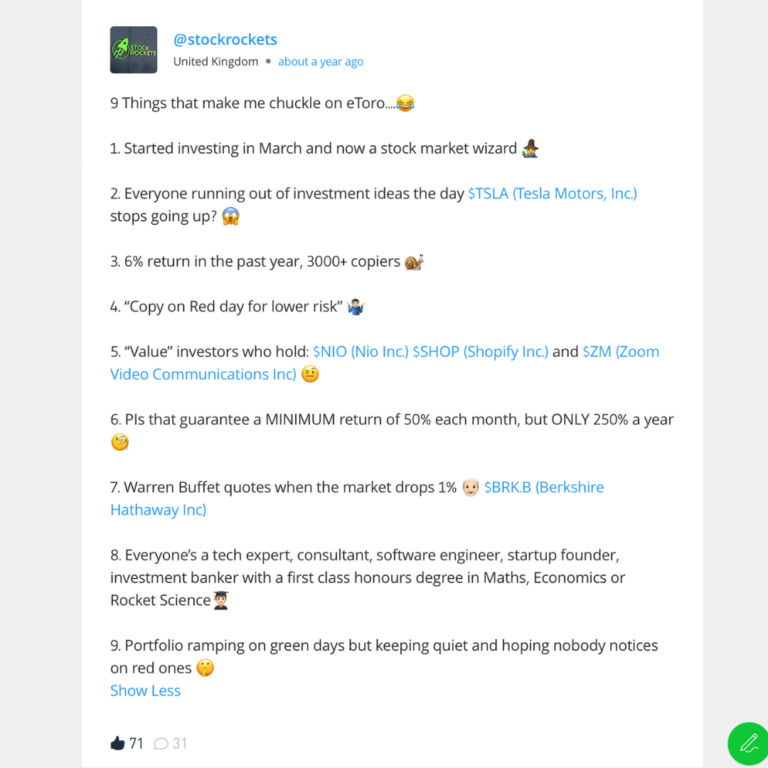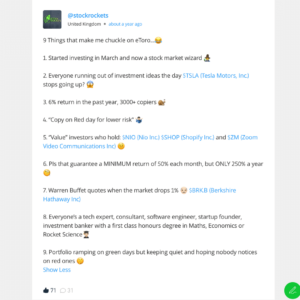 What is eToro?
eToro is a multi-asset trading platform founded in 2007 out of Tel Aviv. Built on social collaboration, investors form part of an active community of traders that can connect and enhance financial education.
In 2010, eToro launched its social trading platform where investors can copy investment portfolios of successful traders, allowing novice investors to learn from seasoned professionals.
Today, users can invest in a range of products free of commission and management costs. Products range from stocks, bonds, ETFs, index funds, currencies, commodities, CFDs, and cryptocurrencies. eToro aims to make investing easy for beginners with a user-friendly trading platform.
By sharing ideas, traders are able to take advantage of the markets by trading smarter together and maximising their profits.
As eToro grows in popularity I thought I'd review some of the key advantages and disadvantages of this rapidly growing social trading and investing platform.
Advantages of

eToro

:
Harnessing the power of the crowd
eToro helps you make better decisions on the trades you are going to make. As you can bounce trade ideas off others whilst learning from their mistakes. It's the place to be if you want to find out about that next hot stock tip.
Easy to use platform
The interface is super user friendly, which makes buying and selling stocks simple. Especially on the mobile app, here's a screenshot of my portfolio below on my Apple iPhone. I can log in to my investments anytime, anyplace, 365 days a year and 24 hours a day.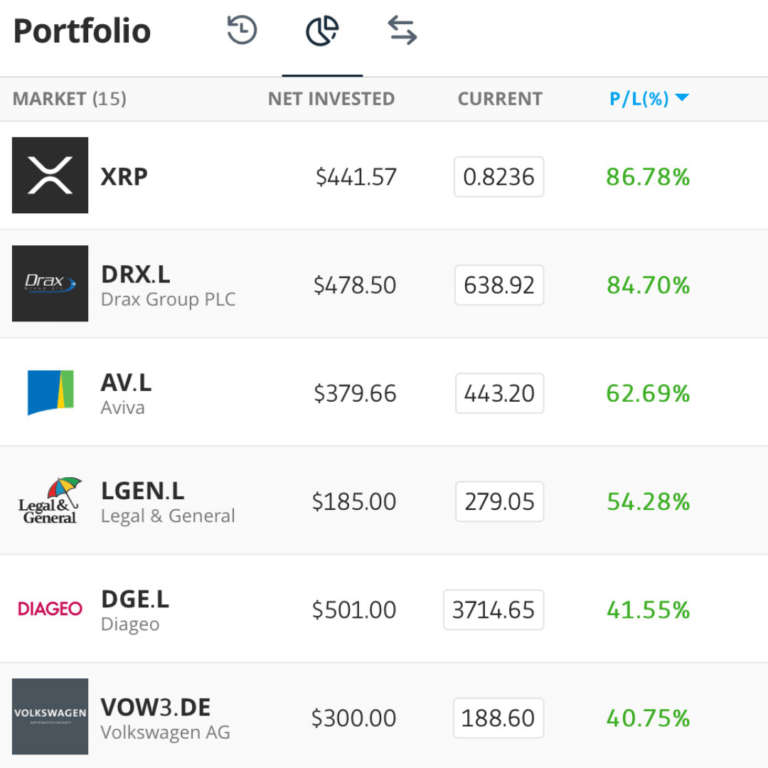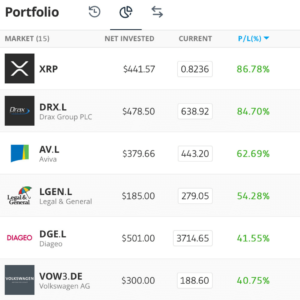 Disadvantages of using eToro:
Customer Service
At the moment, eToro does not provide real-time customer support. To get in touch, users will need to open a new ticket and wait for a response. Alternatively, you can search for the most commonly asked questions on the customer service help page.
You only need to check out Trustpilot to see that customer support takes a long time to respond to queries. Out of over 13,000 reviews on Trustpilot, eToro have an average rating of 4.2 out of 5 stars with many users satisfied with the customer service.
When I opened my account I had a query about some Tesco dividends and it took over two weeks to resolve the issue!
Also when it comes to withdrawing money, it takes a long time to hit your bank account so bear that in mind. This is not too much of an issue for me as any money I invest is for the long term, and ensure I have enough cash for emergencies. eToro has recently released a debit card linked directly to your investment account, however, to solve that issue nicely.
No ISA or SIPP
eToro does not offer an ISA or a SIPP. This is a major drawback for UK-based investors who want to benefit from the tax-free growth of their investments. UK competitors such as Freetrade, Trading212, and Hargreaves Lansdown all offer this functionality.
Who is eToro good for:
Beginner Traders
As they can quickly learn how to trade stocks whilst earning. eToro is a "social trading platform" that is unlike any of its UK competitors.
eToro offers the unique benefit of seeing what other traders are doing, learning from them by reading their analysis or simply "copying" them.
This is a fantastic idea. Beginners with money to invest from the get-go can outsource the management of their portfolio to a more experienced investor whilst learning the ropes.
My suggestion would be for newbies to open a free demo account, without risking real money first.
Once you have signed up, you can switch to a virtual portfolio, within the app.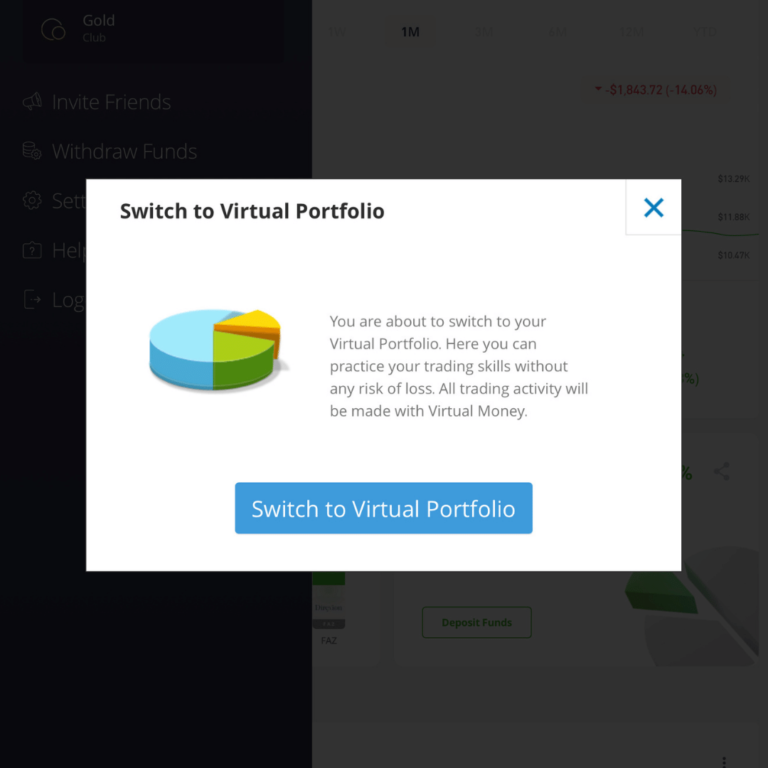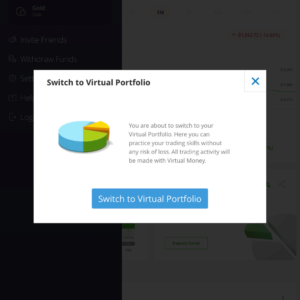 Time Poor Traders
eToro allows you to copy the most successful traders, so even people with little time can make money. If you are time poor or not interested in trading yourself, you can simply copy a more experienced "Popular Investor" on the platform. Popular investors have to evidence their track record of performance and remain within certain risk parameters to remain in the program. By opening a copy portfolio you can simply sit back and relax. And be sure to check out eToro Copy Trading first.
Who is eToro not so good for?
Long-term investors
eToro is a platform designed for trading as opposed to long-term investing. The fees can add up if you decide to buy and hold certain types of investments for long periods. On CFD's (Contracts for Difference) for example, the fee structure is made up of a spread and overnight fee; whilst this is OK for traders, it is costly for long-term investors.
If you are simply looking to buy and hold and are not interested in the social element, I'd recommend Freetrade.
Final Thoughts
I love the social trading aspect of this platform. I'm can bounce ideas off fellow traders from all over the world.
One of the best features of eToro by far is its ease of use. Navigating the website and mobile app is easy and there are good technical tools and charts to help me trade a stock. There's loads of free research available too.
On the downside, eToro customer service can be slow. But I guess that only becomes an issue if you run into any problems.
Overall, I would recommend eToro to any beginner that wants to dip their toe into the world of trading.
You can create an account below. It only takes a few minutes to sign up.
CFDs are complex instruments and come with a high risk of losing money rapidly due to leverage. eToro is a multi-asset platform that offers both investing in stocks and crypto assets, as well as trading CFD assets. Please note that CFDs are complex instruments and come with a high risk of losing money rapidly due to leverage. 67% of retail investor accounts lose money when trading CFDs with this provider. You should consider whether you understand how CFDs work and whether you can afford to take the high risk of losing your money. This content is intended for informational and educational purposes only and should not be considered investment advice or an investment recommendation
If you would like to learn more information you can find out the most frequently asked questions about eToro in my article, Trading with eToro.