Trading with eToro
Answers to the most commonly asked questions, new traders have about eToro, the social trading platform.
Is eToro Safe?
The eToro platform offers traders protection in two main ways in the event of the company becoming insolvent.
Firstly, client money is held separately from the funds of the business in the case of it running into financial difficulties.
Secondly, if you are a UK investor you will have access to the Financial compensation scheme (FSCS)
eToro is regulated and authorised by the Financial Conduct Authority (FCA).
Any money deposited via eToro UK will be treated as an investment and as such will be eligible for a maximum amount of compensation from the FSCS of up to £85,000 per person.
Any money deposited via eToro Europe will be covered by the Investors Compensation Fund, which covers each investor up to €20,000 Euros.
For those with accounts of more than £85,000, eToro has a private insurance policy provided by Lloyds of London that will cover losses suffered up to £1 Million per client, subject to an excess.
It is important to note these protections do not apply to those trading cryptocurrencies such as Bitcoin (BTC), Ethereum (ETH) or Ripple (XRP).
Can you trade Crypto on eToro ?
eToro has a wide range of cryptocurrencies available to trade on the platform. All of the most popular Crypto's are available including Bitcoin, Ethereum, and ADA. They even have a ready-made CryptoPortfolio where you can access a selection of top cryptocurrencies by market capitalization.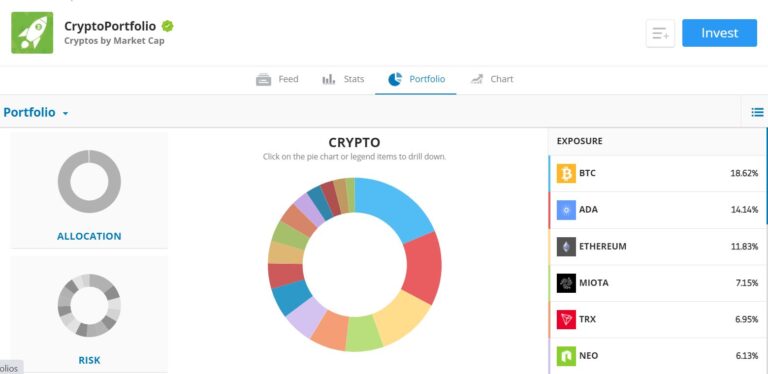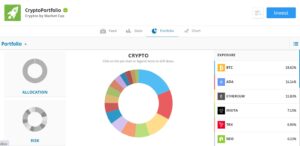 This is a great way to gain exposure to crypto on autopilot whilst spreading your risk across multiple currencies.
As eToro is based in Cyprus they are allowed to offer a wider range of different investments including crypto assets.
Crypto trading is not available on UK-based platforms such as Hargreaves Lansdown, Trading 212, or Freetrade.
When buying cryptocurrencies on eToro you gain ownership of the underlying assets, you are also able to store them in your wallet.
The only trading fees charged by eToro on cryptocurrency are spreads.
The spread on Bitcoin transactions is currently 0.75%, Ethereum is 1.90% and XRP is 2.45%.
Please note: Cryptoassets are volatile instruments and you should never invest more than you can afford to lose.
What is eToro copy trading?
eToro offers a unique feature known as copy trading. Once you sign up to the platform you can search out the best traders, known as popular investors.
To be a popular investor on eToro you have to stick within certain risk parameters and have a track record of performance over a sustained period of time.
All of the popular investor's performance figures are on display and these can not be manipulated. Past performance however is no guarantee of future returns.
Once you have found somebody whose investment style you like you can follow them and simply copy all their trades.
Sit back and relax as every trade they place, every buy and sell will be replicated on your account.
You can copy multiple popular investors and decide how much you want to invest in each.
Copy trading is great for beginners, as they can have their investment portfolio managed by someone more experienced from day one.
Whilst learning along the way, until they feel confident enough to make their own trades.
Do eToro popular investors get paid?
Traders that become successful on the eToro CopyTrader platform can gain recognition and get paid for users copying their portfolios via the Popular Investor Program.
Is there an eToro ISA?
eToro doesn't offer an ISA, this is one of the main drawbacks of the trading platform.
UK investors are automatically set up with a normal GIA (General Investment Account).
This is a taxable account and means that any gains and income made on your investments would be liable to capital gains and income tax.
If you are a UK resident for tax purposes, you are eligible to save into an ISA each tax year.
So you should look to maximise your ISA allowance first, to benefit from tax-free growth on your investments.
For the current tax year (2021/2022) you can save £20,000 into a Stocks and Shares ISA.
If you are looking for a Stocks and Shares ISA, they are available on the following UK investment platforms – Hargreaves Lansdown, Trading 212 and Freetrade.
How much do you need to start trading on eToro?
You can start trading with as little as $200 (about £150) on eToro.
One of the main benefits of the platform is that the minimum trade sizes are very low.
You are able to buy stocks and ETF'S for as little as $50 per trade or crypto at $25 per trade.
So with as little as $200, you could buy four different stocks or ETFs to get going or eight different cryptos.
Can you buy fractional shares on eToro?
On eToro you can buy stakes in larger companies such as Tesla, Amazon and Apple through fractional share investing.
Whereas before, the cost of a single share in a company like this would have been out of reach for the small investor.
Fractional share investing means you can buy less than one share in the company and still participate in the growth.
For example, say a single share of Apple is $100 but you only have $50, you can now buy half a share of Apple.
If Apples share price increases so does your fractional share proportionally, you also get to participate in any dividends the company pays whilst holding that share.
eToro is commission-free on stocks, so you can invest small amounts each month without your returns being eaten up in fees. With 0% fees, you get to keep all your money working for you.
How much does eToro charge to withdraw your money?
eToro used to charge $25 (about £18) if you were to withdraw money from your account, which used to hurt smaller accounts. Now they charge a fixed fee of $5 (about £4).
What is leverage on eToro?
With stock trading, eToro offers the option to either own the underlying asset or buy CFDs (Contracts for Difference).
CFDs are complex instruments and carry a high risk of losing money.
CFDs allow traders to magnify their gains via leverage but also exposes them to the danger of losing money rapidly due to greater losses.
For example, if I was to invest £100 into a CFD with 10 times leverage, I am effectively investing £1,000.
If the CFD goes up by 10%, I will make £100. On the flip side, If it goes down 10% I would lose £100 and blow up my account!
Leverage should only be used by professional traders who are prepared to take the high risk and are prepared to lose their money.
Stay away from leverage unless you are a super experienced investor with a large portfolio.
This is one of the main reasons why 67% of retail investors lose money with this provider. This and over-trading.
You can check out my eToro Review, and hit the button below to create an account.