Copy Trading on eToro Review
So, you've decided to start trading online and you're thinking about trying out copy trading on eToro. When you're a novice trader that's new to investing, copy trading can be a great introduction to the financial markets, allowing you to learn from more seasoned investors and grow your trading experience.
Follow this guide to help you get started with copy trading on eToro, the world's leading social trading platform.
Pros of eToro copy trading
Learn from experienced traders

No management fees

Commission-free stock portfolios

A collaborative social network of traders
Cons of eToro copy trading
Minimum investment of $200

ISA and SIPP accounts are not available

Accounts denominated in USD
Features of eToro copy trading
| | |
| --- | --- |
| Account types | Taxable account |
| FSCS coverage | Yes |
| Regulation | FCA |
| Products | Stocks, bonds, index funds, ETFs, currencies, CFDs, cryptocurrencies |
| Platform fee | None |
| Commission | 0% commission on stocks |
| Minimum investment | $200 |
| Base currency | USD |
| Education | Demo account, webinars, investment guides, training videos |
How does copy trading on eToro work?
Copy-trading allows less experienced investors to copy the trades of a professional, and learn from a collaborative network. You can copy one or several traders' accounts and choose the person you believe will be most successful.
As a new investor, it can be intimidating trying to build a portfolio yourself and there can be a lot of trial and error. With copy trading on eToro, you can become profitable faster by leveraging the expertise of more experienced investors. Here are some examples of profitable popular investors you could copy below.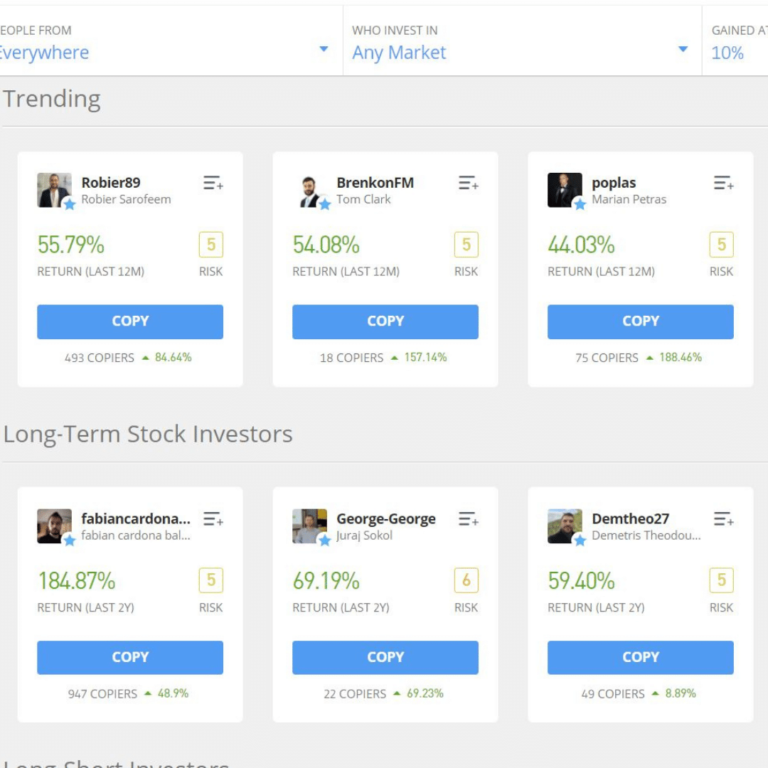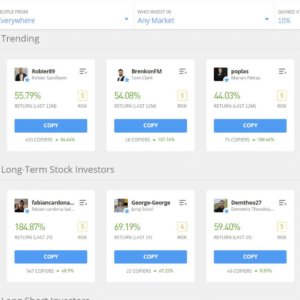 How to copy trade on Etoro?
Thankfully eToro has an easy-to-use platform where you can get started as a copy trader in a few simple steps:
Start by browsing for traders on eToro's CopyTrader platform (see above). You can filter traders by assets, risk score, number of followers, performance and country of origin.
Choose a trader you would like to copy and set an amount. In this example, I've chosen to copy Jeppe Kirk Bonde – he is one of the most popular investors on the platform with solid past performance stats. Keep in mind that the minimum investment to get started is $200.
Click copy to instantly duplicate all the trader's positions. Tick the "copy open trades" box if you want to mirror them exactly. This ensures when they make future buys and sells so do you.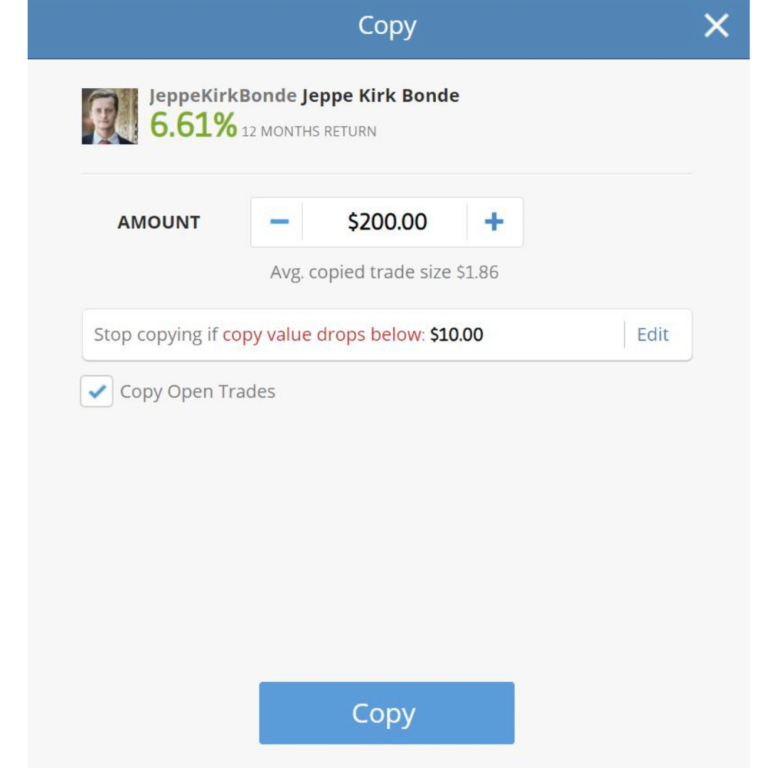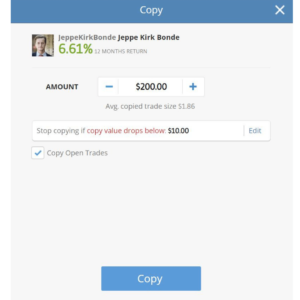 If a trader later decides to sell a position, eToro will automatically update your account. This allows you to take a hands-off approach and have professional traders research investment opportunities for you.
You can also set a stop-loss, which I would highly recommend. This automatically closes your copy, if your funds dip below a certain level. You might want to set your stop loss at 25% for example, which would be $150 on a $200 dollar copy.
With eToro you have the flexibility to add and withdraw funds at any time. Or, if you're unsure about risking capital, you can try the demo platform and practice with $100,000 of virtual money.
What are eToro copy trading fees?
With eToro, there are no platform fees and zero commission on stocks. It's free to open an account, and you'll need a minimum investment of $200 to get started with copy trading.
eToro profits from trades by charging a spread on the buy and sell prices. Typically, the smaller the company, the lower the trading volume, the higher the spread.
Accounts are denominated in USD and there is a conversion charge for deposits and withdrawals into GBP. For GBP/USD, the fee is 50 pips or 0.5%, however, the conversion fee can depend on your payment method.
Keep in mind that the minimum withdrawal amount is $30 and there is a $5 fee for each withdrawal. As fees will reduce your returns, it makes more sense to withdraw larger amounts when you need to take your trading profits.
If your account remains inactive with no login activity for 12 months or more, a $10 inactivity fee applies to available balances each month. You can find a full breakdown of Etoro's fees here.
Is eToro copy trading profitable?
Yes, copy trading on eToro can be profitable depending on the trader you choose to follow. Keep in mind that investments can fluctuate due to market volatility and it may take some time to see real gains.
Is eToro copy trading worth it?
For new investors looking to gain experience, copy trading on eToro could be worth the investment. As with any investment, there are no guarantees of future gains, and the past results of traders do not predict future performance. Where eToro stands out is providing a user-friendly platform that fosters a collaborative social network enabling you to learn from other traders and investors.
However new investors should think about the fees when considering eToro. With a $5 withdrawal fee, it only makes sense to withdraw your money once you have started making investment gains. Plus, with no option for an ISA, gains are taxable under capital gains tax rules.
Final Thoughts
In a nutshell, copy trading on eToro is best suited for investors looking to collaborate and learn. With no management fee and commission-free stock trading, investors can follow the traders they like and start investing in just a few clicks. Register with eToro today to start investing. It takes just a few minutes to sign up and get started.
Alternatively, if you're not quite yet ready to join, check out my Etoro Review. It documents my real-life experience of using the social trading platform for the past two years. I have also compiled a list of answers to the most Frequently Asked Questions on Etoro.