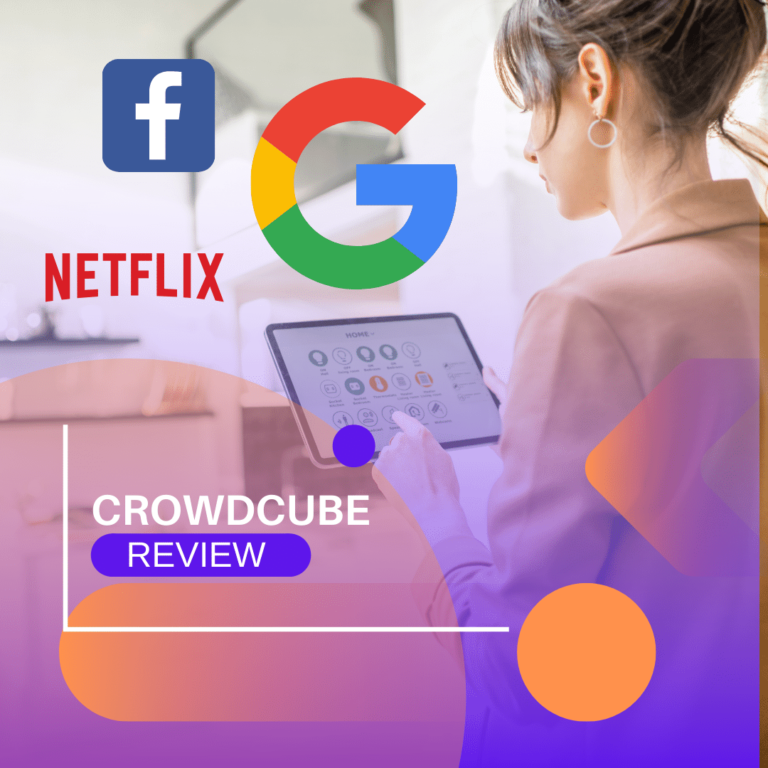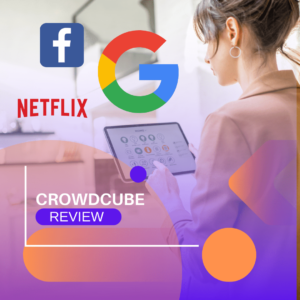 Today I'm going to give my honest Crowdcube review, the investment platform where exciting new start-ups pitch to you à la Dragons Den style.
Before platforms such as Crowdcube came along, investing in fledging private start-up companies used to be a rich man's game.
Investing in the right business in its infancy can lead to exponential wealth creation. Just look at the early investors in unicorns such as Google, Facebook and Netflix.
Thankfully, with the advent of technology and platforms such as Crowdcube, small individual investors like you and I now have a chance to invest in small start-up companies.
Crowdcube is an investment platform that gives us a chance to judge companies and see if there are worthy of our investment à la dragons den.
 What Is Crowdcube?
Crowdcube is an online equity crowdfunding website that allows everyday people like me and you to invest in private companies.
In the simplest of terms, owners of private companies pitch the idea of their company on the Crowdcube platform.
Investors then decide if it is worth the risk to invest in that company.
Crowdcube allows people with as little as £10 to invest in private businesses.
Once an investor is invested in a particular business, he is considered a part-owner and can lay claim to the profits of the business which are paid to him through dividends as when the company sees fit.
Think about it this way, just as you can buy an ownership stake of a well-known business on the stock market, crowd cube allows you to buy ownership stakes in new start-ups or private companies.
It's like the stock market but without the daily quoted values you see every day.
The Types of models Investors can invest in:
Crowd Cube has two basic models:
Equity-based model –

When you invest in equity, you basically own a share in the business. You will benefit from any dividends and you will share in any gains once the investment is sold, presuming it increases in value.
Fixed income model –

 This is when you give a loan to a company and in return, you receive a fixed amount of interest every year. 




Buying a bond in a company is generally regarded as being safer than buying equity in a company. When you buy a bond, you start receiving interest from year one but when you buy equity, it could be years before you receive your first dividend payment. The drawback of a bond is that your upside is limited. If the business was to be wildly successful, you will still be receiving that 7% on your money but with equity, your share of the profits rise as the profitability of the business rises.
This review will look at the equity-based model as this is more appealing from an investors point of view.
How does investing in Crowdcube works?
Crowdcube advertises a number of businesses on its website called 'pitches'. Typically it has about 15-20 pitches at any given time.
By clicking on a business, it takes you to a dedicated page for the pitch on the website. The dedicated page gives you key information such as an overview of the business, key financial data, the market for the product/service and the reasons why they need funds / what the funds will be used for.
Every pitch also has a video where the owners of the business give a quick snapshot of the business and why they are seeking funding.
The videos are great as they can demonstrate the passion that the entrepreneurs have or lack.
Once you find a business (pitch) you are interested in, all you have to do is click the 'invest' button on the screen.
Here you just have to fill out a few of your details and state how much you would like to invest in that business, with £10 being the minimum.
The more you invest, the bigger proportion of the business you own.
Paying is simple and it can be done easily with a debit card. Crowdcube uses a payment platform stripe to carry out the transaction.
The beauty of this payment platform is that money will only be taken from your account once the company seeking funds has met its funding target and met the required criteria. If the funding target is not met, money will not be taken from your account.
Just like you, hundreds, if not thousands of people view the website to see if they are interested in investing in any of the businesses advertised. The beauty of crowdfunding is that the whole round will be funded by people like you and me, thus bypassing any need for debt or banks. (Note: Some businesses will already have previous debt or loans taken out so always look at the balance sheet for this before investing).
Once the funding target is met, crowd cube will take care of the rest. They will conduct due diligence, handle the paperwork, sort out the tax certificates with the company (see below) and send out your share certificate confirming you are a part owner in the business.
It is worth noting that unlike investing in companies on the stock market where you can buy or sell shares anytime, it is not typically possible to do so in private companies.
This means that you can only invest in a company when the funding round is open. Once you invest in a company, you can not sell your shares quickly.
To start making money, you typically have to wait for the company to start paying dividends or wait for an exit, the company being bought out by a larger company or it being listed on the stock exchange.
What Types of business are available on Crowdcube?
Crowdcube deals in private businesses aka i.e those which are not available on the open market (a listed stock exchange).
The businesses are typically in three different stages of a business life cycle:
startup

early stage

growth businesses
Tax Incentives for investing in private companies on Crowdcube?
One of the benefits of investing in companies that are available on the Crowdcube website is the tax benefits investors receive.
Specifically, HMRC gives relief for qualifying early-stage and growth-focused businesses which have permanent establishments in the UK
Two of the tax breaks offered are EIS and SEIS.
(Please note that investors who are not UK taxpayers are unable to take advantage of these schemes and the schemes are subject to change. You also need to check if the business you invest in offers these tax breaks as some of them don't meet the criteria).
1. Enterprise Investment Scheme (EIS) – is
 designed to encourage investment in smaller, higher-risk companies by providing investors generous income tax reliefs on new shares of those companies.
Reliefs available under EIS are :
Income Tax Relief – Relief of up to 30% can be claimed on investments. So whether you are a basic, additional or higher rate taxpayer, the relief is still 30% provided you have paid enough tax to offset this amount. There is no minimum limit to invest but the maximum is £1,000,000 per person after which no relief is given.
Capital Gains Tax exemption (CGT) – Any gains from the sale of the shares at a profit are free of CGT provided the shares are held for at least three years and the income tax relief was claimed on them
Loss Relief – If you sell the shares at a loss, you can elect that the loss, less Income Tax relief, can be offset against the income of the year in which they were disposed of. Or on income of the previous year instead of being offset against any capital gains. In short, losses made on investments can be offset against your income tax paid.
*More information on the relics can be found on the Crowdcube website, here.
2. Seed Enterprise Investment Scheme (SEIS) – encourages investment in qualifying new seed-stage startups companies by providing individuals with 50% of their investment back in income tax relief.
To find out more about SEIS, go directly to the Crowd Cube website, here.
How To claim EIS relief on Crowdcube?
Claiming Enterprise Investment Scheme (EIS) tax relief depends on whether you are employed or self-employed.
If you are employed and do not need to complete a Self Assessment return every year, you can set off your relief against your PAYE coding. Once you receive your EIS certificate CrowdCube sends you, fill out your details on Page 3 and $ as required and send it to your HMRC office for them to set it off against your Pay As You Earn (PAYE).
If you are Self-employed or you have to complete a Self Assessment(SA) return every year, you can simply claim the EIS relief by completing your SA return and indicating that you would like to claim your relief.
Can you make money on Crowdcube?
Investing in businesses listed on Crowdcube is risky, but it can be rewarding and deliver healthy returns if you are diligent and diversify.
A study by Nesta revealed returns for angel investors across a diversified portfolio is 2.2 times the investment.
Crowdcube risks
You should note that investing in start-ups and early-stage businesses involves risks including illiquidity, lack of dividends, loss of investment and dilution.
You should only invest in these businesses as part of a diversified portfolio.
Crowdcube is targeted exclusively at investors who are sufficiently sophisticated to understand these risks and make their own investment decisions.
You will only be able to invest on Crowdcube once you are registered as sufficiently sophisticated.
Investors should implement a diversification strategy when building an investment portfolio. Diversification involves spreading your money across multiple investments. As an investor, this will give you greater peace of mind that your investments will be sustained in adverse market conditions, and that losses will be limited. However, it will not lessen all types of risk.
Who is Crowdcube good for?
Investors looking to diversify their assets to include private businesses.
People looking to invest in a company that they truly believe in.
Investors looking to optimise their tax strategy – As mentioned above, you can claim tax back on investment if they are EIS or SEIS approved. Another great aspect of EIS is that if your investment is profitable and you eventually sell your shares, it is exempt from capital gains tax under certain conditions. This is particularly beneficial for higher rate or additional rate taxpayers.
Who is Crowdcube not good for?
Investors looking for quick short term gains – This is because it is not easy to sell your shares in a private business. As mentioned above, one of the only ways to sell your shares is if the company got bought out by a larger company or if the company is listed on the stock exchange. By investing in private businesses, especially start-ups, be prepared to hold on to your shares for a long period of time.
What are the alternatives to Crowdcube?
Other crowdfunding platforms in the UK include Seedrs and Bnk to the future.
Is Crowdcube Safe?
Crowdcube is authorised and regulated by the Financial Conduct Authority which indicates that it is a trustworthy platform.
Crowdcube also undertakes due diligence on the businesses that pitch their ideas on the platform.
They do this by checking to verify every material factual claim made on the pitch page by obtaining evidence from credible sources.
Crowdcube also aims to do the following to ensure that investors are given full information in order to make an informed decision:
Ensure any subjective statements/opinions expressed by the business are clearly identified as such.

Investigating the legal structure of the business to ensure it offers investors a fair deal, and disclose any material differences to our standard articles of association or other legal documentation relating to the pitch.

Conducting checks on the business and its directors to detect any adverse data that has the potential to negatively affect the crowd.

Reviewing the financial forecasts of the business to ensure they are a fair and reasonable reflection of the business as it currently stands, and that their forecasts are backed by reasonable thinking and assumptions.
My review of Crowdcube so far
Before investing, I did my research on Crowdcube and I found this platform to be a solid way to build my portfolio of private businesses.
As I am usually cautious with the money I invest and I am not one to throw money into any new scheme.
I decided to invest £500 by splitting the money and investing it into 4 different companies (JustPark, Cauli rice, Mindflood and Pavegen).
The process of signing up and investing was simple. All of it was done online and it was relatively straightforward.
Once you sign up, you are able to see all the pitches from the various businesses seeking funding. You can then browse through these to see which one is best for you.
Each Pitch has a forum section where investors are able to ask questions to the entrepreneurs of the business or the 'pitch' owners. This is a great tool as it can aid in clarifying any questions you have about the business.
Once I saw a pitch that sparked my interest and made financial sense, I invested in that company's equity online.
The payment I made via debit card on the Stripe platform was straightforward and like any other debit card platform.
Once you are invested and the pitch is fully financed, the owners of the business have the choice to keep it in 'overfunding' to raise more money or to close the investment round.
Once the round is closed, crowd cube takes care of the rest. They handle the paperwork, sort out the tax certificates with the company (see above) and send out your share certificate confirming you are a part owner in the business.
The investment I made was taken out of my bank account about 10 days after the pitch was closed. Once a pitch has been closed to further funding CrowdCube will send all investors an email providing seven working days to review the investment opportunity.
After this period has expired, the payments will be collected from all investors within 2-3 working days.
About 10 days after the payment was processed, I received my share certificate for the company I had invested in.
Crowdcube acts as a nominee on behalf of the investors. A nominee is a company that holds an asset on behalf of another person.
In this instance, it means that any shares in a company with a nominee structure will be held by Crowdcube on your behalf, along with the shares of all other investors in that company.
Investors will receive the beneficial interest in those shares, entitling them to the return on their investment if the company exits, and any dividends, if dividends are offered to shareholders.
The EIS/SEIS forms usually take longer to reach you. This is because the company has to liaise with HMRC in order to get the EIS certificate.
The length of time it took me to receive my EIS certificate was between 3 – 7 months for the 3 companies I invested in (JustPark did not offer EIS tax relief).
With all 4 investments I have made so far, the entrepreneurs of the business give quarterly updates so I know exactly what is happening with the company and the progress it is making.
With all 4 investments, I do not envision an exit any time soon. I have invested with the mindset of a long term investor and know that the returns will more than compensate for the long time horizon.
But with any investment, I know that there is a risk that the company might falter and fail and that is why I have diversified by investing in 4 different companies.
Crowdcube review conclusion 
Crowdcube has so far impressed me with its breadth of business offerings and ease of use.
It is a platform I would recommend for anyone looking to diversify their portfolio to include private businesses or start-ups they truly believe in.
But as always in the world of investing, do not invest money that you cannot afford to lose.
The risks involved in investing in these smaller businesses is high. But then again, if you do pick a winner, it could end up being the next Google or Facebook and you might increase your investment tenfold!