Parking. A pain in the ass. You spend more time looking for a parking spot than browsing the shops. Is the hassle really worth it? Introducing my Just Park Review and FAQs.
JustPark has looked at a problem that is faced by highly urbanized cities (across the globe) and has found a commercially viable way to solve this problem.
It's a fantastic concept that I truly believe in.
What is JustPark?
JustPark is an online platform that is Europe's leading provider of pre-bookable parking.
It is part of the growing sharing economy where people (the crowd) interact directly with each other to trade goods and services.
Just Park connects drivers in search of parking with anyone who has a space going spare, whether in a car park, private driveway, church, school, or pub.
So this means that if you have a parking space (e.g your driveway), you can rent it out to people looking for one.
If you are looking for a car parking space, simply log onto the app and it will show you the closest convenient parking space and the cost of that space.
How Much does Just Park Charge?
Car Park Owners – Space owners do not pay to list on the JustPark website. It is completely free.
Drivers – The fee the driver pays will obviously depend on the location and the demand for car parking spaces at that time.

A service fee charged by JustPark is included in the total of every booking and is equivalent to 20-25% of the total cost paid by the driver at the point of checkout.
Just Park Cancellation Policy
If the driver cancels a pre-booked space service fees are non-refundable.

If the owner of the space cancels a pre-booked space, the service fee will be refunded in full to the driver.
The full cancellation policy can be found here( https://www.justpark.com/cancellation-policy/).
How are Prices decided?
1) The space owner decides on the price they would like to receive for their parking space.
2) To cover the costs of running this service JustPark automatically includes a service fee on each transaction as mentioned above.
3) This total price is paid for by the driver.
The payment system
All payments by drivers and receipts by space owners are done online. It's really simple, the details are as follows :
1) The driver pays for the booking in full at the time of booking either by card or via PayPal.
2) The funds are released to the space owner 48 hours after the booking starts.
They hold the money for 48 hours in the event there are any disputes with the space.  JustPark are able to refund the driver or hold the funds while they investigate the issue. They will never retain funds for longer than this period unless there is an ongoing dispute or investigation. If this is the case, they will always notify you.
Who is Just Park good for?
1) Drivers: JustPark offers a range of benefits to drivers as it takes away the pain and cost of finding suitable car parking spaces.
With JustPark drivers can:
Save Money – Spaces are up to 70% cheaper than on-street parking.
Save Time – By pre-booking parking, you have a guaranteed space waiting for you at your destination.
No need to look for change – No more fumbling in your pockets for change as all payments are done online.
Peace of mind – the JustPark team offers great support with their dedicated customer support team.
No more Wardens – No more panicking about getting slapped with a parking ticket
2) Car park space owners: You can get paid for simply renting out your driveway or car parking spot.
Is Just Park Legit?
All payments are conducted securely online via Just Park's payment systems.
If any disputes arise relating to the car parking space, JustPark will aim to sort this problem.
Just like you get problems on eBay when buyers and sellers interact, there are bound to be a few problems with drivers and space owners.
JustPark has a dedicated team to sort out any problems.
JustPark is backed by both BMW and a leading international venture capital firm Index Ventures.
These reputable international backers show that this is a genuine platform as opposed to just another scam website.
Save money on Parking using Just Park
JustPark offers drivers numerous advantages as mentioned above. It allows you to pre-book parking spaces so that you can save time and money.
The steps of booking a car park space are simple.
Search – Browse spaces on the website, mobile web or iPhone app. Filter by date, time, distance, price and type of space until you find your perfect match.
Book – Choose a space, book it, and pay securely online using a credit card, debit card or PayPal. You can message the space owner if you have any specific questions.
Park – Make a beeline for your reserved space, then head off and do your thing. JustPark is great for parking near stadiums, airports, stations, hospitals and in the city centre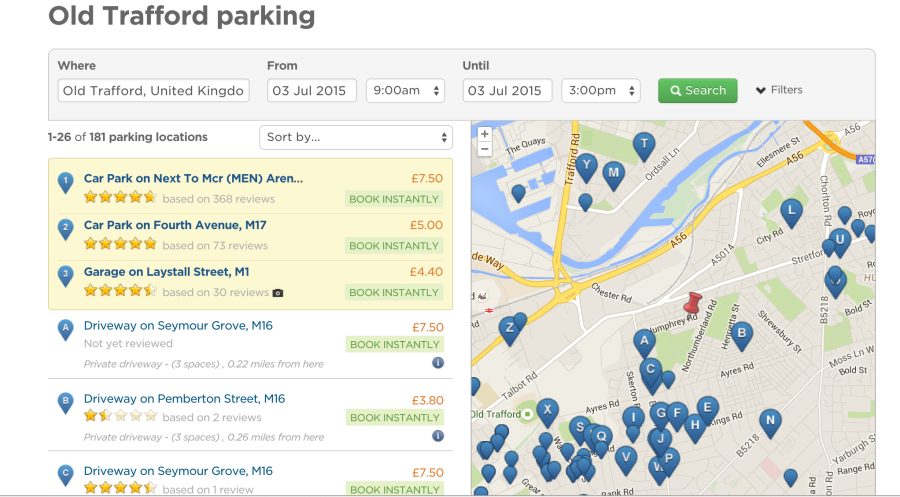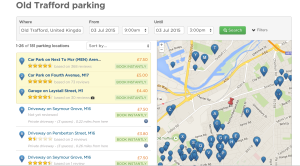 Earn money by using JustPark
Ever thought of your driveway as just an empty piece of space?
Well no more, with JustPark you can turn your driveway (parking spaces) into a goldmine.
For homeowners with private parking spaces, driveways and garages JustPark allows them to generate money from a patch of tarmac that, in most cases, was earning them nothing previously.
The more parking spaces you have, the more you can earn.
The more secure they are, the more you can charge. The key can be taken with the driver which gives them peace of mind whilst away from their vehicle.
This means that if you are looking to build something to improve your property, a garage would make a fantastic option, and with prefab options on the market, it is an easy choice to make, too.
After all, it is extremely simple for any property owner with a parking space to start taking bookings for their space and earn (or start earning) extra income.
Property owners list their space for free on JustPark.
Then they wait for drivers to book their space.
When it is time to withdraw their parking earnings, property owners set up free automatic bank deposits so that their JustPark earnings continue to drop automatically into their bank account.
Listing a space is easy:
Simply list your space and fee online – It is free to list spaces. Sign up, craft a quick description, upload a photo, and set your desired price and availability
Watch the bookings roll in – Minimal effort is required. JustPark will let you know whenever a driver books your space.
Get Paid – JustPark handles all the transactions on your behalf. Get paid automatically via bank transfer or PayPal.
My experience with JustPark
I have rented out my car parking space over the last few months and have found this to be a good income generator for me.
My experience so far has been good and I haven't had any problems so far.
All the drivers that booked my parking sport have left on/before their time, and I have had no one attempt to park without a booking.
I have also booked a couple of car parking spaces myself. 
I find it especially useful when I'm commuting to the London office or travelling down to Wembley to watch England play.
Pre-booking my space means I don't have to worry about finding a car parking spot when I get there.
It also saves me a fortune in parking costs especially in and around London.
JustPark has used innovative problem solving through technology to alleviate the problem of parking.
I can only see this platform going from strength to strength and the number of parking spaces available through it increasing over time.
I will continue to list my parking spot on JustPark and pre-book spaces whenever I travel.
JustPark has so far impressed me and let's hope they keep up these high standards.
I would recommend joining JustPark as it is an easy way to make money and save money with parking spaces.
You can sign up for free HERE, or by clicking the banner below.