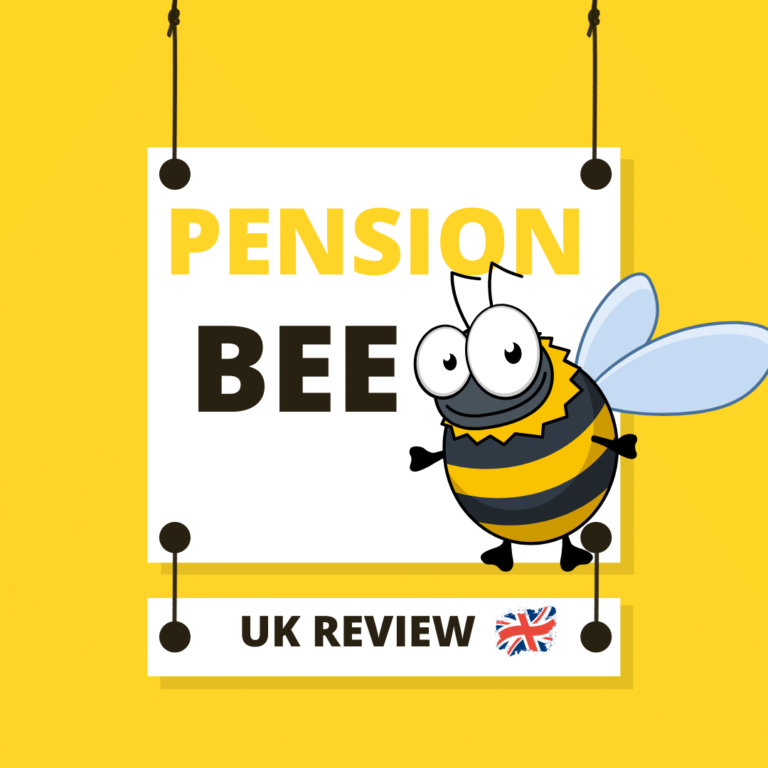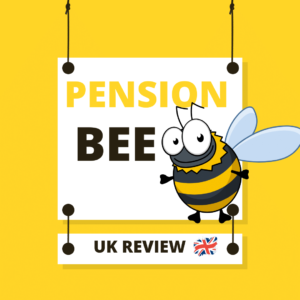 Here is my comprehensive UK review of the Pensionbee app.
Hopefully, this will help you make a well-informed decision on whether it is the right home for your pension.
If you have limited knowledge about pensions, I also recommend you read my pensions for dummies article prior to signing up.
I can see Pensionbee being particularly useful for those that are self-employed or contractors. As it allows them to consolidate their existing pensions all under one roof, simply and conveniently.
If you are employed however the first port of call should always be to investigate what you have with work.
Under auto-enrolment rules, every employer must now offer their workers a pension. Usually, these are low cost, with a wider fund selection than Pensionbee can offer. Some will also allow you to consolidate existing pensions too.
The added kicker with putting money into your workplace pension is usually your employer will match it – and that's free money!
Pensionbee App Review UK
Pensionbee is the perfect app for those who find pensions boring. With its cool branding, it sounds more like a dating app (Bumble springs to mind) than a typical pension provider.
PensionBee was born in 2015 and became the UK's first personal finance app that focuses purely on pensions. Available on desktop, but mainly designed for mobile (IOS and Android) it provides a hassle-free way for people to save for their retirement, all via a nifty little app.
Penisonbee brings pensions to life with terms like consolidating your old pensions into your "hive". They call their customer advisers "beekeepers". They are also spending a fortune on marketing to bring in new "bees" to the platform.
But are they actually any good?
Well, the short answer is yes. The beauty of the Pensionbee app is its simplicity.
If you have little time, knowledge or inclination to manage your own pension it's perfect for you. And also if you are just looking to consolidate your existing pensions, set and forget.
Pensionbee Plan Pricing
PensionBee provides investment management services with no commission charges, and no hidden costs – just a simple all-in annual fee that ranges from 0.5% to 0.95%. The fees are halved on any amounts over £100,000 in your pension pot.
| | |
| --- | --- |
| Annual Fee | Annual Fee per Annum (%) |
| Tracker Plan | 0.50% |
| Preserve Plan | 0.50% |
| Tailored Plan | 0.70% |
| Pre-Annuity Plan | 0.70% |
| Fossil Fuel-Free Plan | 0.75 % |
| 4Plus Plan | 0.95% |
| Shariah Plan | 0.95% |
Pensionbee has a range of seven funds ranging from low to high risk. But within the seven options, there is something for everyone. For those that what to keep costs down with a tracker plan. To those that are more environmentally conscious the fossil-fuel-free plan and even a Shariah plan for Muslims.
Pensionbee is competitively priced and comparable to most workplace alternatives depending on fund selection. Here's an example of the fees for the different funds below based on a pension transfer of £27,500.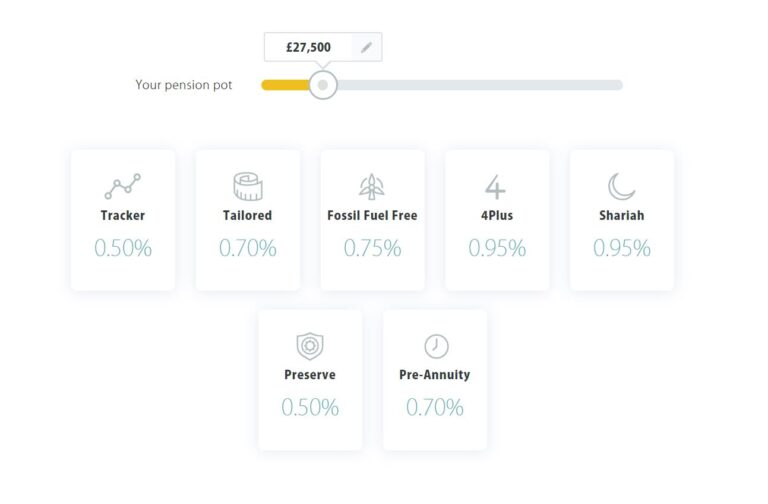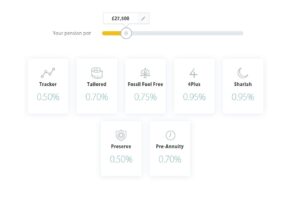 PensionBee vs Hargreaves Lansdown – Fees comparison
Hargreaves Lansdown is another UK-based large investment company that offers financial products and services. Hargreaves Lansdown offers a range of services, including SIPP, ISA, Personal Pension and Investment Products. It has been in operation since 1985, and it has grown to become one of the largest providers of self-invested personal pensions (SIPPs) in the UK.
Hargreaves Lansdown offers a much wider fund selection of funds (over 2000+) than Penisonbee but typically work out more expensive.
Whereas, Pensionbee has an annual fee of between 0.5% to 0.95% per annum all in.
The standard Hargreaves Lansdown's platform fee is 0.45% per year. However, this is just the platform cost. You need to add on the cost of a fund to invest your pension in.HL also charge a commission to buy certain stocks and unit trusts which starts at £11.95 per trade.
If we use the Vanguard Target Retirement 2050 fund as an example investment, then we need to add another 0.24% fee for the annual management fee of this fund.
Adding the two together results in an annual charge of 0.74% and this charge stays the same no matter what size fund you have.
Remember, as your pension gets above £100,000 with PensionBee, the annual costs are lowered.
The advantage of using a platform like Hargreaves Lansdown is that you can pick other funds and individual stocks.
PensionBee is all about keeping things simple by putting your money in just one just fund.
How does Pensionbee work?
Pensionbee offers an online service that simplifies the process of bringing your old pension plans together. They manage the investment of your pensions all under one roof and offer automated savings each month to grow your pot. They provide guidance (not financial advice) on how much you should save, the risks and how aggressive you should be with your investment strategy based on your life stage. The app also provides the facility to calculate what you need in retirement, helping you plan for it based on your life expectancy.
Is Pensionbee a Free App?
Pensionbee transfers all of your existing pensions into one, with no fees at all. Although this might be considered too good to be true, there is an ongoing annual fee per annum of between 0.5% and 0.95% per annum. This is based on the total value of your pensions and varies each year dependent on performance.
Is it easy to use Pensionbee app?
The interface is simple and easy to navigate free from glitches or bugs popping up from time to time. There are three main sections of the PensionBee app:
Dashboard: which shows your current balance and contributions, as well as predictions on your estimated retirement date;
Goals: which gives you goals to help you save for different kinds of goals;
Contributions: This helps you see how much money you need to set aside every month.
All in all, I think that PensionBee is a great app for people that want a really simple, user-friendly interface.
Pensionbee UK App Features
PensionBee strives to make investing as easy as possible with its simple and effective app.
The app provides users with a wide range of features to suit their needs like managing your retirement savings, regular investments into funds of your choice etc. All very convenient options for people that want to save their money for retirement now.
The automated tools guide app users in making smart financial decisions. On where to invest their funds and what they need to do to secure their financial future.
My three favourite features are:
Smart alerts




These alerts are designed to help users stay on top of their investments, ensuring they don't miss out on the best opportunities for growth.

Automatic rebalancing




Easily organize your portfolio by setting it up so that, as your investments do well or poorly, the app will automatically buy or sell accordingly to bring things back into balance for you.

Multiple portfolios




Easily set up multiple portfolios depending on how your savings are divided among different types of assets
Is Pensionbee safe?
Pensionbee is trusted by 658,000+ customers in the UK and has a rather impressive Trustpilot review of 4.6 out of 5.
The most important thing however is that Pensionbee is protected by the Financial Services Compensation Scheme.
This means you may be able to claim compensation if Pensionbee goes out of business.
Your pension would be protected 100% with no upper limit if the company fails.
Whether you have a pension, are thinking of getting one or changing it, you should always check that it's FSCS protected.
What do I like about PensionBee?
Easy to use website and app.

Makes consolidating pensions straightforward.

Fees are clear and easy to understand.

Simplifies a complex financial product, reducing 'life admin'.

Helps with retirement planning.

Can use to consolidate pensions and then move away.

There's no exit fee if you leave PensionBee at any point.

There's also a 30-day cancellation policy, which means we'll return your pensions to your old providers free of charge if you cancel within 30 days of opening it.
Register with PensionBee today to start saving for your future. It takes just five minutes to sign up and get started. PLUS, you get a pensionbee refer a friend £50 bonus when you sign up with the link below.