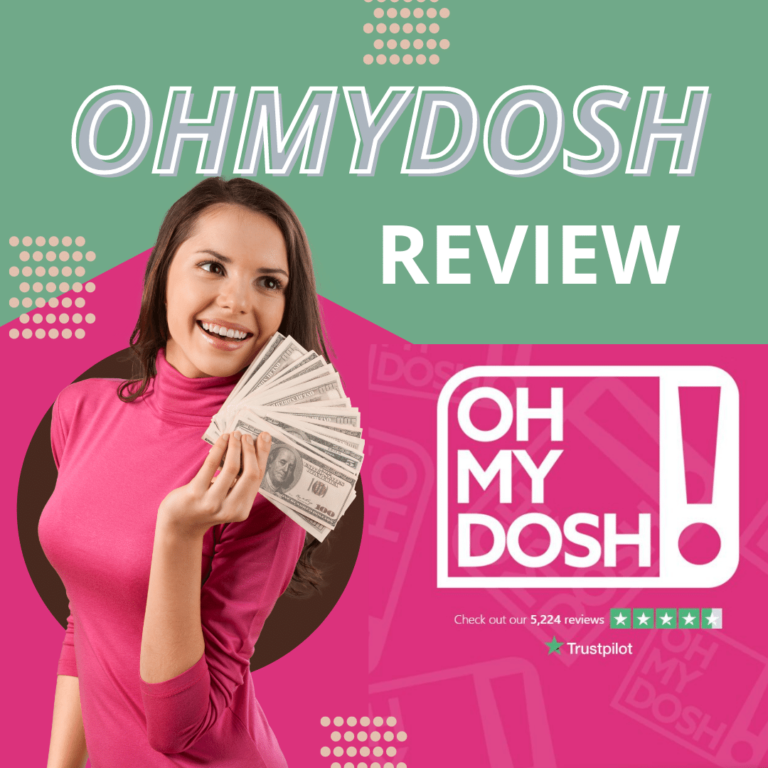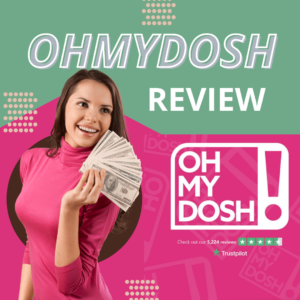 If you're on the lookout for a new side hustle, OhMyDosh could be right up your street. With over 1 million members, it's free to sign up and you can earn extra money from paid surveys, competitions, free trials and much more. OhMyDosh is a legit site that's easy to use and allows you to earn anything from a few extra pounds to over £30 an hour. Read on to check out my OhMyDosh Review.
OhMyDosh Review
Carry on reading my comprehensive OhMyDosh review, so that you can earn money online in exchange for giving some of your spare time.
Pros of OhMyDosh
• Multiple ways to earn money
• Easy-to-use platform
• Free to sign up
• Incentives and extra rewards for top earners
Cons of OhMyDosh
• Remember to cancel trial offers otherwise you may be charged
• Takes up to 45 days for earnings to hit your account
OhMyDosh features
| | |
| --- | --- |
| Ways to earn | Surveys, competitions, free trials, cashback on shopping, gambling, cashback on utilities, deals and hot offers |
| Payment options | PayPal, bank transfer |
| Minimum payout | £10 |
| Refer a friend program | Earn £5 for every friend that joins with your link and cashes out. Your friend will receive a £1 sign-up bonus too. |
| Additional rewards | Daily Dosh Winner, top earner rewards |
What is OhMyDosh?
OhMyDosh is a cashback reward website where you can actively take part in product offerings to earn extra money on the side. Ways to earn can include signing up for free trials, filling out surveys and entering competitions.
Cash rewards can vary between tasks. Be mindful to read the rules of the offer before you complete a task, to ensure you are paid for your time. For instance, if you sign up for a free trial, the task may require you to be a member for at least a week. If you cancel before the week is over, you could lose your reward.
OhMyDosh is free to use and you can cash out your rewards as soon as you meet the £10 minimum threshold.
How does OhMyDosh work?
OhMyDosh works similarly to many cashback reward sites. To start earning you can choose from a range of tasks to complete. These can include:
• Signing up for free trials
• Entering competitions
• Switching utility bills
• Filling out surveys
• Casino offers
• Cashback from shopping online
• Downloading an app
• Registering with a website
Once you select a task, OhMyDosh will track your transaction using a cookie, until the task is completed. After OhMyDosh receives the affiliate commission for your task, a portion of the earnings will be credited to your account within a specified number of days. Depending on the type of offer, earnings may take up to 45 days to reach your account.
It's up to you which offers you choose to complete. You could get paid for signing up for a free trial of Amazon Prime or win as much as £50 in a weekly prize draw.
How do I get started with OhMyDosh?
Getting started with OhMyDosh is pretty simple and only takes a few minutes.
To open an account, you will need to reside in the UK and be over 18 years old. The site requires a valid email address, your name and a password.
If you sign up using my referral link, you can claim a £1 sign-up bonus!
Once you're signed in, you can browse the different categories and money-making opportunities. Be mindful to read the conditions of the offer for a clear indication of how long the offer will take to pay out and to ensure you complete all the necessary steps.
How much can you earn with OhMyDosh?
How much you earn depends on the tasks you choose to complete and the amount of spare time you have to invest. Here are some examples of ways to earn:
• £1 per hour on average for filling out surveys
• £3.50 for signing up for a 30-day trial of Prime Video
• £5 cashback from Tesco for your first online shop when you spend over £25
• Switch to Shell Energy for £25 cashback
• Sign up to Crypto and earn £4
• Get 50% off your first HelloFresh box and earn £4
When you're signing up for offers, it's a good idea to look out for 'Lightning Payouts' as these offers will pay a cash reward within 24 hours.
While some tasks do not require you to spend, others can require you to deposit an amount upfront with the chance to receive a higher cashback reward. If you decide to spend money, ensure that you are happy with the minimum profit before proceeding with the deal.
Plus, if you sign up for free trials, make a note of when the trial will expire so that you cancel the trial before you are charged. Otherwise, the extra subscriptions will start to eat into your profits!
As a bonus, OhMyDosh picks a Daily Dosh Winner each day for a £10 prize. If you're the chosen winner, you have 24 hours to claim your reward.
What are the OhMyDosh payout options?
You can cash out as soon as you have earned the minimum threshold of £10. Payments can be made via PayPal or bank transfer and take between 3 – 5 working days. Typically, PayPal is a faster method.
So, is OhMyDosh worth it?
If you're looking to earn some extra cash on the side and take advantage of some lucrative one-time offers, OhMyDosh gives you the flexibility to complete your tasks from the comfort of your home. Their £10 payment threshold is relatively easy to reach and you could be in with a chance to win additional prizes as a top earner or a Daily Dosh Winner.
However, it's important to note that while you can make some extra cash, you won't be earning a full-time income. Plus, after you have completed a task, you could be waiting up to 45 days for a payment to hit your account. It is also worth checking out my Swagbucks review before signing up which is a solid alternative.
Register for OhMyDosh today with my referral link and grab your £1 sign up bonus! It's free to sign up and only takes a few minutes to get started.