Property Moose is part of the new breed of property investment companies. The type that allows small investors with little capital, minimal knowledge of the property sector or lack of time to become a property investor (landlord). It is a company that is built around the idea that the everyday person, like you and I, can become a property investor. So you might ask how it is able to do this – through the power of crowd funding. (Read my article here on different types of crowdfunding to get a better understanding of what crowdfunding is).
What Is Property Moose?
Property Moose is an online crowd funding website that allows everyday people like me and you to invest in property. Putting it simply, Property Moose gathers money from a wide range of investors and uses these funds to buy actual physical property.
Property Moose allows people with as little as £500 to invest in the property market. The properties are bought outright using funds collected form 'the crowd' (investors). Each investor is then considered an owner of the property and gets a share in any rents received by the property being let out and gains in the price of the property when it is sold.
Think about it this way, just like how you can buy 'parts' of a business on the stock market, Property Moose allows you to buy parts of a property.
How does it work?
Property Moose advertises a number of properties on its website. As the company is new, the amount of properties advertised has been limited – but the number has increased recently. For each property, there is a set amount to raise which includes the acquisition cost and any other associated costs such as any refurbishments costs and any transactional costs (surveyors, stamp duty e.t.c).
The properties are well researched and the forecasted financials like estimated rental yields and capital growth for the 2-3 years it typically holds the property for are given.This will allow you to calculate your return on investment. (The estimates are calculated based on projected figures by Savills for the region).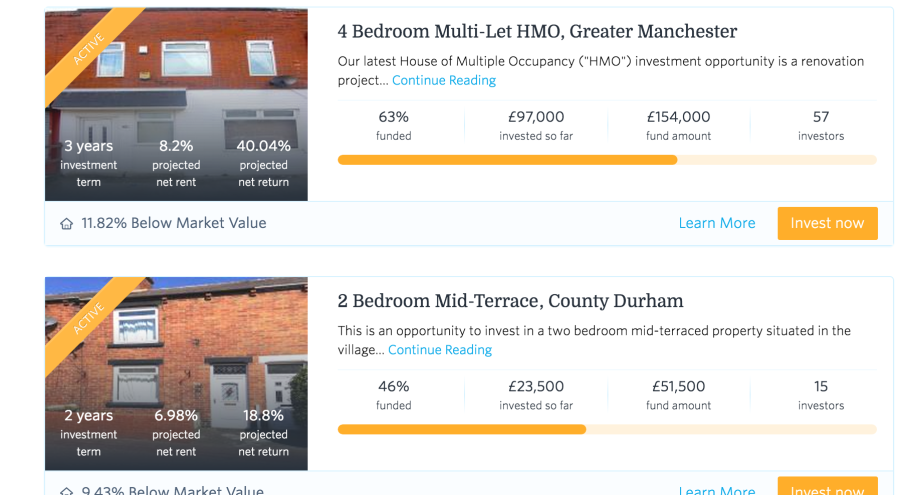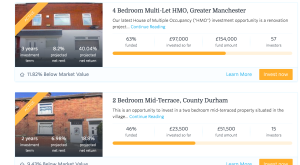 Once you find a property you are interested in, all you have to do is click the 'invest' button on the screen. You can make investments in multiples of £500. The more you invest, the bigger proportion of the property you own.
You can pay money into your account in two ways,by a card payment or a bank transfer. Now here is the good part. The money you invest for your property does not go straight to Property Moose's bank account but instead goes into a solicitors 'ring-fenced' account. Thus, if Property Moose was to go bankrupt, your money would be safe and secure and would be paid back to you. Your money going to a solicitor rather than directly to Property moose is an added safety feature and this gives me peace of mind!
Just like you, hundreds, if not thousands of people view the website to see if they are interested in investing in any properties advertised. The beauty of crowd funding is that the whole of the property will be bought by people like me and you thus bypassing any need for debt or banks. (No worrying about rising interest rates!)
Once the property is fully funded, Property Moose will take care of the rest. They will buy the property on your behalf (and consequently issue you a share certificate), carry out any refurbishments to the property, look for suitable tenants, collect rents, maintain the house and consequently take care of the sale of the house if investors choose to sell it after the minimum period.
For someone like me who does not have a great understanding of property management, this is great. Once I invest money, all I have to do is sit back and watch dividends flow in every year. This is my kind of deal!
Most of the properties have a minimum term of 2-3 years before they are sold. So after this minimum term, a vote will take place involving every shareholder. If there is a 'yes' outcome the property will be sold. You will receive your initial investment and a proportional share of the profits if the house is sold at a profit.
If the house is not sold (more than 80% of investors are against the sale), there will be a vote every subsequent year.
If you want to sell your stake before this minimum period, Property Moose can arrange for you to do so.
Share Certificate For A House Purchase And Dividends?
As can be seen above, Property Moose will issue you a share certificate and will pay you dividends every month.
This is because each property is treated as its own company, known as a Single Purpose Vehicle (SPV). Thus each and every property has different ownership (shareholders) as each property will have different investors. So if you invest in a property, you will receive a share certificate for that property (company) and will receive dividends (rent) every month.
The advantage of using a Single Purpose Vehicle is that if Property Moose goes bankrupt for whatever reason, you do not lose your investment as your investment is in the actual physical house and completely separate from the website or other properties (single purpose vehicles) Property Moose has bought.
What Types of properties are available through the Property moose?
There has been a wide range of properties advertised on THC, ranging from one bedroom apartments to 6 bedroom houses.
The key for The Property Moose team is that the financials for the property as an investment need to be correct as they look to maximise investors returns.
In order to buy this attractive properties, they typically look into buying houses that need refurbishment, those that need a quick sale or those that have been repossessed. In short, they are looking for houses below market value with good potential for growth.
The Fee.
Property Moose has stated that it aims to be clear and transparent when it comes to the fees it charges. In essence, two fees are charged
5% Fundraising Fee – This fee is taken out of the total funding amount Property Moose raises for a property.
15% Profit Share – When a property is sold at the end of the investment term, Property Moose receives 15% of the profit of the increase in value of the property. So if the property is not sold at a profit, Property Moose will not receive any more. I think this is great as Property Moose's interests are directly aligned with those of the investors – if the investors don't make any money, Property Moose doesn't make any money either.
Why Pay Someone To Look After A Property Investment For You?
Just like with buying and selling shares, you can do it yourself (at a lower cost) or let a fund manager do it for you for higher returns.This is no different. Hopefully time will tell if the team at Property Moose will be able to pick up good solid cheap investments that offer high returns for investors.
What Return Do You Get On Your Investment?
This is the most important questions when it comes to investing. You want to know how hard your money is working for you.
The one great thing about Property Moose as opposed to other crowd funding websites is that gives you net figures as opposed to gross. The advantage of having net figures is that this is the actual amount of return or money you will be getting.
For each property, Property Moose has a calculator where you put in how much you are willing to invest and the calculator gives you figures on how much dividends you are expected to receive per year and what your return will be over the entire period.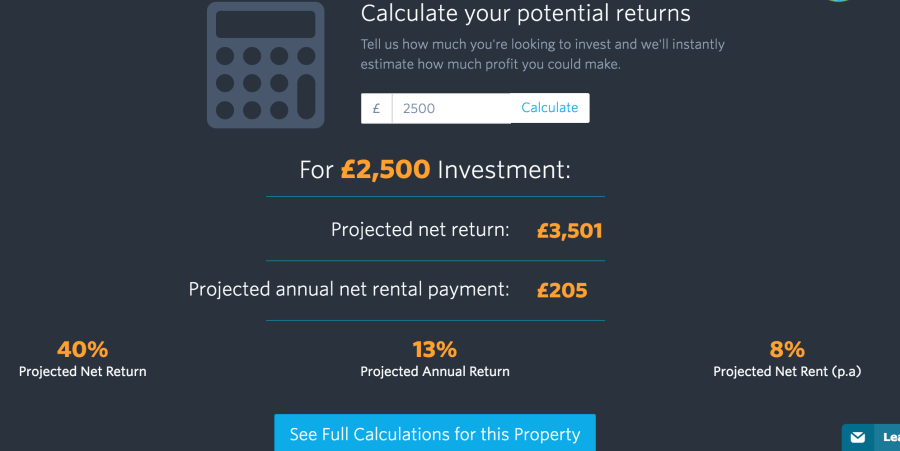 It is important to note that each property has different financials and thus it is important to do your research and see what property investment is best for you. On the properties I have browsed so far, the average return appears to be 10% per year.
Who is Property Moose for?
People who are interested in property investing but lack the required funds.
Investors looking to diversify their assets to include property.
Investors looking to split their investments over a number of properties – This erases the worry of no rent during certain months in which the property is untenanted as by investing in multiple properties, cash will still be flowing in from other properties you've invested in. You are diversifying the risk away.
Who Is Property Moose Not Good For?
People looking to live of rental yields (dividends) by holding properties for the long term – This is because the holding period is 2-3 years and thus it is not the best for long-term investors. Although investors get a vote on whether or not to sell a property after a minimum period, this is essentially out of your control as they are many investors per property.
People already running their own buy-to-let portfolios and running every aspect of the property management themselves – These types of people will not benefit from joining THC unless they are looking to diversify (see point 3 above).
Who Are The Competitors?
Other Crowd funding platforms – Currently in the UK, there are 4 other crowd funding property platforms. These are,The House Crowd , Property Partner , Property Crowd and Crowd2let .
Property market funds – These are funds or investments trusts (Real Estate Investment Trusts) that can be bought from online platforms such as Hargreaves Lansdown. I personally don't like these as I have no control over what is being invested in. Also, they are too London-centric and I believe prices are too high there right now. These types of funds also have lots of hidden fees.
Why you should invest in Property Moose Opposed To Other Crowd Funding Websites.
Here are some reasons why Property Moose better value than the other crowd funding websites currently available:
Dividends paid monthly – You cannot underestimate the benefit of this. By getting paid monthly as opposed to yearly, as other crowdfunding platforms do, you can use your money to invest in other assets and benefit from the power of compounding.
Clear Transparent cost structure – Property Moose uses net figures as opposed to gross figures as mentioned above. Other Property crowdfunding platforms like The House Crowd use gross figures and this could mislead investors if they are not careful.
Short holding period – This can be an advantage or disadvantage depending on your preference. By having a short holding period or time fame, you are essentially looking for house prices to go up in value as opposed to collecting a stream of rental payments over the course of the long term. By having a short time period, you are investing for capital gains as opposed to cash flow and I am a fan of the latter.
Higher average returns – Property Moose offers higher rates of return for comparable properties than other crowd funding websites. The higher returns are achieved because Property Moose has a lower fee structure than other property crowd funding websites.
My Experience So Far.
As Property Moose is a fairly new company, I was reluctant to invest with them at first. I've heard many stories relating to property companies that have turned out to be scams in the end. So I went about doing research and due diligence on the company. My own research has shown that Property Moose is a good way of building my property portfolio. What has given me confidence in the company is that it is backed by the AXM Venture Capital fund which is itself supported by the European Investment bank.
So I decided to dip my toe into PropertyMoose's property corwdfunding world by signing up to the website. The process of signing up was simple and any identity checks were done quickly online. Once signed up, I browsed through properties which Property Moose had identified as sound investments. After doing my own research on the various properties by looking at the numbers to ensure they made sense, I found the perfect property for me and invested in it online. The investment process was easy as all I had to do was pay into my account using a debit card.
From what I remember, it took about a week from the time I invested in a property till the property was fully funded. This was impressive. (Property Moose does pay you 3% pa on your money from the day you invest till the property is purchased to ensure you don't lose out by wing one of the first people to invest in a property).
Once the project is fully financed, Property moose will go about purchasing the property, refurbishing it and then letting it out. This process usually takes about 4 – 6 weeks. Within 4 – 6 weeks, you will also receive shares of the single purpose vehicle and those shares entitle you to a proportion of the property and any rental income.
I have so far invested in two properties using Property Moose. As i have only started investing with them within the last months, I have not received any dividends yet but i am hoping to receive my first payment at the end of April. Once I start receiving these dividend payments, I will update this post.
Property Moose has so far impressed me. The customer service I get is fantastic and the total gains received look great (depending on the property). I believe that property crowd funding is still in its early stages and is only set to rocket as the years go by. As the Property Moose platform increases in size, it will only get better as more diverse properties will be offered. With this in mind, I will be looking to invest in more properties using Property Moose in the not too distant future. Property Moose is a truly remarkable way to invest in property and i would recommend any reader to have a go at using this platform to diversify your property portfolio.
*But with any financial product, always be cautious and do your research. As a rule of thumb, never invest more than 10% of your net wealth in any crowd funding scheme as although the returns look very good, it is not protected by the Financial Service Compensation Scheme (FSCS) unlike money in a bank where up to £80,000 is protected by government.