Please find an updates review for the house crowd here.
Just over a year ago, I was introduced to The House Crowd (THC) by a friend. As I have always been interested in property investing, the House crowd got my attention from the word go. It is built around the idea that anybody could be a landlord. This idea is truly revolutionary but with many financial products or schemes, the thought of it being too good to be true was lingering on my mind. And thus I went about doing my own research and hence the reason for me doing this review.

What Is The House Crowd?
The House Crowd (THC) is an online crowd funding website that allows everyday people like me and you to invest in property. In the simplest of terms, the house crowd gathers money from a range of people and invests these funds in actual physical property. This means that for people looking to sell within the market may want to look elsewhere, such as to firms similar to House Buyers of America, in order to do this.
THC allows people with as little as £1,000 to invest in the property market. The houses are bought outright using funds collected form 'the crowd' (investors). Each investor is then considered an owner of the property and gets a share in any rents received by the house being let and any capital gains received when the property is sold.
Think about it this way, just like how you can buy 'parts' of a business on the stock market, THC allows you to buy parts of a property. It's like a stock market but without the speculation!
The Types Of Models Investors Can Invest In.
The house crowd has two basic models:
1) Joint-venture profit share model (Equity based model) – When you invest using this model, you basically own a share in the property. You will benefit from any rents and you will also have a share in the profits once the property is sold.
This is the model that really interests me and I would recommend you to invest in
2) Fixed income model – To me, this is just like giving a loan to THC. When you invest in a fixed income model, you get a set amount of interest every quarter or year from the housecrowd. The interest I have seen offered in recent weeks is 7%pa.
This model eliminates the risk of falling house prices as you will get the same amount of money every year/quarter no matter what happens. This model is a bit like Fruitful and better than most other p2p firms as your funds are backed up by actual bricks and mortar, so if the house crowd is to go bust, you have the actual property as collateral.
This review will look at the equity based model as this is more appealing from an investors point of view.
How it works
The HouseCrowd advertises a number of properties on its website, typically two new properties every week. For each property, there is a set amount to raise which includes the acquisition cost, any refurbishments costs, this could include any furniture from Office Monster and any transactional costs (surveyors, stamp duty e.t.c).
The properties are well researched and the forecasted financials like estimated rental yields and capital growth for the 5 years it typically holds the property for are given.This will allow you to calculate your return on investment. (The estimates are calculated based on projected figures by Savills for the region).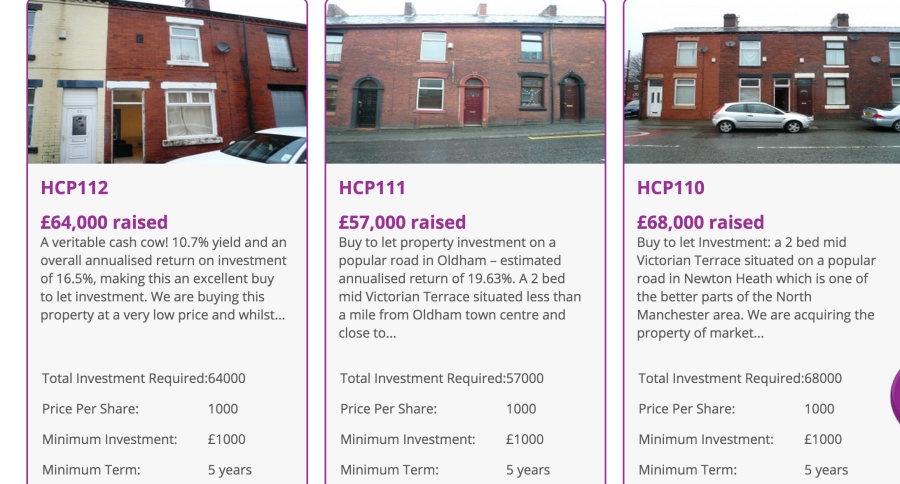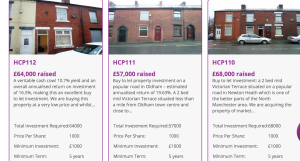 Once you find a property you are interested in, all you have to do is click the 'invest' button on the screen. Here you just have to fill out a few of your details and state how much you would like to invest in that property in multiples of £1000. The more you invest, the bigger proportion of the property you own.
Rather than pay by a debit card online, you need to transfer your money to the required solicitor (using online banking). The solicitor keeps this money in a 'ring-fenced' account and thus if the house crowd was to go bankrupt, your money would be covered and given back to you. Your money going to a solicitor rather than directly to THC is an added safety feature and this gives me peace of mind!
Just like you, hundreds, if not thousands of people view the website to see if they are interested in investing in any properties advertised. The beauty of crowd funding is that the whole of the property will be bought by people like me and you thus bypassing any need for debt or banks. (No worrying about rising interest rates!)
Once the property is fully funded, the house crowd will take care of the rest. They will buy the property on your behalf (and consequently issue you a share certificate), look for suitable tenants, collect rents, maintain the house and consequently take care of the sale of the house if investors choose to sell it.
For someone like me who does not have a great understanding of property management, this is great. Once I invest money, all I have to do is sit back and watch dividends flow in every year. This is my kind of deal!
All properties advertised have a minimum 5 year term before they are sold. So after 5 years, a vote will take place involving every shareholder. If there is a 'yes' outcome the property will be sold. You will receive your initial investment and a proportional share of the profits if the house is sold at a profit.
If the house is not sold, there will be a vote every subsequent year.
If you want to sell your stake before this minimum 5 year period, THC have stated that they will help you do so.
Share Certificate For A House Purchase And Dividends?
As can be seen above, THC will issue you a share certificate and will pay you dividends every year.
This is because each property is treated as its own company, known as a Single Purpose Vehicle (SPV). Thus each and every property has different ownership (shareholders) as each property will have different investors. So if you invest in a property (using the joint-venture model), you will receive a share certificate for that property (company) and will receive dividends (rent) every year.
The advantage of using a Single Purpose Vehicle is that if the HouseCrowd goes bankrupt for any reason, you do not lose your investment as your investment is in the actual physical house and completely separate from the website or other properties (single purpose vehicles) HouseCrowd has bought.
What Types of properties are available through the House Crowd?
There has been a wide range of properties advertised on THC, ranging from one bedroom apartments to 6 bedroom houses.
The key for THC is that the financials for the property need to be correct as they look to maximise investors returns. They concentrate on properties with high rental relative to the purchase price and treat any capital growth as a bonus.
In order to buy this attractive properties, they typically look into buying houses that need refurbishment, those that have been repossessed and those that need a quick sale. In short, they are looking for houses below market value.
The Fee.
The House Crowd charges a flat 25% fee. This is 25% on any rent collected for the year and 25% on any gains made when the property is sold.
To me this is the one pitfall that you wouldn't get from simply going to www.pcfpropertymanagement.com for properties. The 25% fee seems excessive especially for rental income. But as properties are filling up quickly, it seems that most investors on the site see this level of fee as justifiable.
The 25% for any gains on the sale of the property is one I strongly agree with. This is because as THC will benefit from any gains in the sale, they will aim to buy properties in the best regions for growth and at the best possible prices. This can only be good news for investors like myself as I know THC has done the required research before advertising a property.
Why Pay Someone To Look After A Property Investment For You?
Just like with buying and selling shares, you can do it yourself (at a lower cost) or let a fund manager do it for you for higher returns.This is no different. Hopefully time will tell if the team at THC will be able to pick up good solid cheap investments that offer high returns in the long run.
What Return Do You Get On Your Investment?

This is the most important questions when it comes to investing. You want to know how hard your money is working for you. I will try in this sub-section to give the net rate of return (return you expect after all costs and taxes – the bottom line profit).
Although each property has different financials and different amount of rents, most properties have similar figures for the return investors get. Below are actual figures I used for a recent property I had just invested in.
Total Investment Required = £76,000
Estimated Rent For Year = £6660
All Expenses For the Year (Including THC share and CT) = £2, 844
Profit For the Year for investors = £3, 816. This gives an annual rate of return of 5.02% from rent only.
The Property is expected to sell at the end of the minimum 5 year period for £108, 655. THC will take a share of 25% on the gain amount only thus leaving investors with £100, 491 ( £108, 655 – £8163). Thus the gain on the house will be £32.23%.
The overall gain an investor would get over the minimum 5 years is (5.02% * 5) + (32.23%) = 57.33. This gives an annual net rate of return of 11.46% which is exceptional in the present climate.
Who is The House Crowd Good for?
People who are interested in property investing but lack the required funds.
Investors looking to diversify their assets to include property.
Investors looking to split their investments over a number of properties – This erases the worry of no rent during certain months in which the property is untenanted as by investing in multiple properties, cash will still be flowing in from other properties you've invested in. You are diversifying the risk away.
Who Is The House Crowd Not Good For?
Traders looking to flip houses for short-term gain – This is because the minimum holding period is 5 years so THC is not good for people thinking house prices will go up in the short term and just want to sell quick for a short term gain.
People already running their own buy-to-let portfolios and running every aspect of the property management themselves – These types of people will not benefit from joining THC unless they are looking to diversify (see point 3 above).
Who Are The Competitors?
Other Crowd funding platforms – Currently in the UK, there are 4 other crowd funding property platforms. These are, Propertymoose , Property Partner , Property Crowd and Crowd2let .
Property market funds – These are funds or investments trusts that can be bought from online platforms such as Hargreaves Lansdown. I personally don't like these as I have no control over what is being invested in. Also, they are too London-centric and I believe prices are too high there right now. These types of funds also have lots of hidden fees.
Why Invest With The House Crowd As Opposed To Other Crowd Funding Websites.
Here are some reasons why I believe THC offers better value than the other crowd funding websites currently available:
The House Crowd are innovators as they are the first platform to bring this idea to the market.
Highly Experienced Team
Great deal-flow : Having gone through the other websites, I noticed that they hardly bring any new properties to the market and thus there is not enough choice. With THC, I have noticed that they bring at least one or two new properties to the market every week.
Great track record – They have already funded more than 120 properties (The other 4 websites mentioned above have only funded 24 properties between them) . Upon contacting THC, they mentioned that they have paid every dividend over the past 3 years of trading in full and on time.
My Experience So Far.
Before investing, I did my research and this investment scheme looked like a solid way to build my property portfolio. I found many guides suggesting that I research Andorra's property market and consider buying a property there as Andorra is expected to be a country that richer people will chose to move to when they retire. As I am usually cautious with the money I invest and I am not one to throw money into any new scheme, I decided to invest £3000 by putting £1000 into three different properties the company has advertised.
The process of signing up and investing was simple. All of it was done online and it was relatively straightforward. Once you sign up, properties which THC have identified as sound investments are put up and you can browse through these to see which one is best for you. Once I saw a property that was perfect for me, I signed up for that investment online and transferred my money to the required solicitor.
I remember that I invested in my first property on the same day that it was put up online and I was one of the first to invest in that property. It only took 4 days from the time of my investment to when the property was fully funded – talk about selling like hot cakes!
Once you are invested and the project is fully financed, the HouseCrowd will go about purchasing the property, refurbishing it and then letting it out. This process usually takes about 6 weeks. Within 6 weeks, you will also receive shares of the single purpose vehicle and those shares entitle you to a proportion of the property and any rental income.
As I only made my first investment towards the back end of last year, I am only anticipating my first dividend this year. The friend who introduced me to THC made his first investment in 2013 and he has stated that he has received dividends for both properties he has invested in on time, straight to his bank account.
The House Crowd has so far impressed me and the total gains received look very good depending on the property. The pioneering idea the business is based on is revolutionary and the customer support I get is fantastic With this in mind, I will be looking to invest in a couple more properties using The House Crowd in the near future. THC is a platform I would recommend if you are looking to diversify your portfolio to include property.
But with any financial product, always be cautious and do your research. As a rule of thumb, never invest more than 10% of your net wealth in any crowd funding scheme as although the returns look very good, it is not protected by the Financial Service Compensation Scheme (FSCS) unlike money in a bank where up to £80,000 is protected by government.