With the recent exodus of Current Account customers from Barclays bank to more rewarding banks (such as Santander, Halifax and Lloyds), Barclays has decided to come up with innovative incentives to try and win back customers. One of those incentives Barclays are offering its customers is ClicThat which the bank says is a newer and smarter way to shop.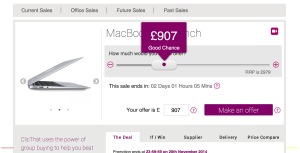 What is Clicthat?
ClicThat is an online auction website with a twist. Members login to the website through their Barclays online banking account. Once on the website, members can browse through a range of products ranging from TV's to diamond earrings to cooking appliances from well known brands. If you interested in purchasing a product advertised, all you do is simply state how much you are willing to pay for a product and Clic That will try and negotiate with the supplier to sell you a product at the price you have stated. See below for how it works.
How does Barclays Clic that work?
If you are interested in purchasing a particular product, you simply put a price you are willing to pay for it (within a specific range). All other members of ClicThat interested in that product also put a price they are willing to pay. Once the offer period ends, ClickThat goes and negotiates a price with the advertiser of the product to sell the product to all the members that were willing to purchase the product.
ClicThat will negotiate the lowest feasible price the advertiser can sell their product for. So anyone who was willing to pay this price or more will automatically purchase the product. Now here is the fun part, even those members who put a high price they were willing the pay will only pay the lowest price ( the price the lowest accepted bidder put).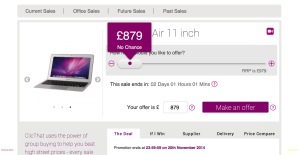 My experience with Clicthat.
Recently, I bought an iPad Air from ClicThat. When you see the product on ClicThat, it shows the price other retailers such as Amazon and Argos are selling it for. The RRP on this iPad was £339. The price I put that I was willing to pay was £300. Once the listing had finished, I got an e-mail saying that my price
had been accepted but instead of paying £300, I will only have to pay £288 as this is the price the lowest bidder put. To say I was ecstatic was an understatement.
Why clicthat is good for you.
As the iPad was something I wanted to purchase already, I got a huge saving by using ClicThat. Thus, this website is useful for Barclays customers who are already looking into purchasing an item online. You can get great savings on a range of products offered.
On the website, there is a section for you to recommend what products you would like to see listed and this is something I will be using to do my christmas shopping!

.
.